President Bottoms to Make Campus-Wide Address Tuesday
February 26, 2003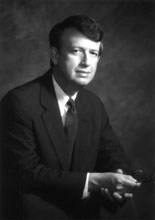 February 26, 2003, Greencastle, Ind. - DePauw University students, faculty members, staff and alumni are invited to Kresge Auditorium of the Performing Arts Center Tuesday, March 4 at 4 p.m. as DePauw President Robert G. Bottoms speaks on "Building a Responsible Community at DePauw." Dr. Bottoms says his speech will mark "the beginning of an important, campus-wide dialogue."
DePauw's chief executive is part of a national group of college and university presidents who are concerned about alcohol abuse on college campuses.

[DOWNLOAD AUDIO: "Do Something About It" 101KB] "I'll be talking about what some of the national statistics are and why we're concerned," Bottoms says. "We know from conversations with two different consultant teams we've had over the past two years that alcohol abuse is an issue on our campus, as
it is on all campuses. And rather than pretend it doesn't exist, we'd like to do something about it."
Dr. Bottoms says Tuesday's speech will be the first of what will be "a series of conversations on campus" that will require a large amount of student input. All are invited to attend the event.
Back