Chicago Area Student-Athlete Eyes DePauw, Newspaper Writes
February 26, 2003
February 26, 2003, Greencastle, Ind. - Meghan O'Connell is a senior at Leyden High School in the Chicago suburb of Franklin Point and point guard and co-captain on the school's women's basketball team. "Now with high school nearing a close, O'Connell will choose among Augustana, DePauw, Cornell College and Bradley University, all of which have accepted her for this coming fall," writes the River Grove Messenger. "All but Bradley are Division III schools, and O'Connell hopes to continue her athletic endeavors at the institution."
The newspaper's Danny Carlino writes that O'Connell's "skills have evolved over time to the point where she is considered a team leader and an example for the rest of those in the program. Her growth in the game has affected her far beyond the white lines." The senior says, "I've changed a lot and learned about myself, and a lot of that comes through athletics. I not only learned basketball skills but also learned how to work hard and get along with others. Working with a team is an asset to have for the rest of my life."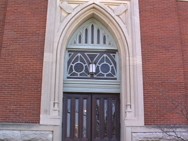 The article adds, "One thing that has remained constant in O'Connell's life is her excellence in the classroom. She ranks third in her class with a grade-point average of 4.15 on a 4.0 scale exemplifying the true meaning of student-athlete and accomplishing the delicate balance between books and sports. 'It doesn't seem like it's any harder to do well in school and in sports,' she said. 'I'm very busy with practice and homework. It doesn't seem any different. I'm just so used to it.'"
You can read the story in its entirety by clicking here.
Back