Newspaper Writes of DePauw's Academic Credentials, "Norman Rockwell-like Environment"
March 4, 2003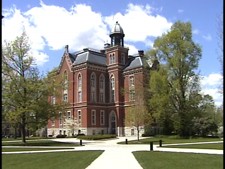 March 4, 2003, Greencastle, Ind. - "Officials at DePauw University mostly talk about the school's academic credentials: among them, 16th in the list of the nation's undergraduate colleges as the baccalaureate school for Ph.Ds in all fields, 58 percent of its freshmen coming from the top 10 percent of their high school classes, and ranked seventh by U.S. News & World Report as a 'best value among liberal arts schools,'" begins an article in the Star Press of Muncie, Indiana. "What gets less discussion is the feeling a visitor to the campus has of being in the midst of a picture postcard, a Norman Rockwell-like college environment. It's all there."
The story by Earl Conn, published yesterday, goes on to discuss the University's setting ("Greencastle is a small, graceful, tree-lined community, complete with attractive homes, a modest but relatively busy downtown and the close-by-campus Walden Inn, a prominent hotel with its meeting and banquet rooms known throughout the state"), DePauw's
history ("The school started with one professor and five students"), its buildings ("The oldest building on campus, East College, stands even today as an important academic structure, housing economics, history and modern languages. Begun in 1871, it took 13 years to complete... Its Meharry Hall, with original pews, woodwork and balconies, represents the grand style of old-time college assembly halls") and even mentions several campus events, including the upcoming symposium, "Political Education and the Modern University."
You can access the complete story, which includes a color photo of East College, by clicking here.
Back