Senior Nicole Hallett Receives Luce Scholarship
March 4, 2003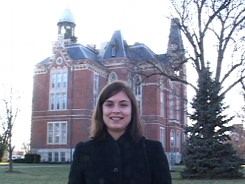 March 4, 2003, Greencastle, Ind. - Nicole Hallett, a DePauw University senior, is the recipient of a 2003-2004 Luce Scholarship from the Henry Luce Foundation. The Luce Scholars Program provides stipends and internships for eighteen young Americans to live and work in Asia each year. Established in 1974, the program's purpose is to increase awareness of Asia among future leaders in American society.
A year ago, Hallett became DePauw University's second-ever recipient of a Truman Scholarship. Amy Weisenbach, a 1998 graduate, was named DePauw's first Truman Scholar in 1997. The Truman Scholarship, an official federal memorial to America's thirty-third president, is a highly competitive, merit-based award offered to American citizens and US nationals from Pacific Islands who want to go to graduate school in preparation for a career in public service (read more here).
"What I love about this program is that I will have a chance to do human rights work on the ground and I will also get a chance to follow my passion for traveling," Hallett says. "I
will most likely go to Cambodia and work with a local group in setting up the new war crimes tribunal. The program pays for language training, so I'll also be learning to speak Khmer. Accepting the scholarship means that I'll defer attending Columbia Law School for a year, which will be a welcome break from school!"
Learn more about the Luce Scholars Program by clicking here.
Back