Preserve Memories of Your Special Day -- Pre-Order 2003 Commencement DVD
March 7, 2003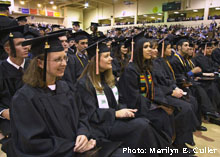 March 7, 2003, Greencastle, Ind. - Graduation day is one of life's most memorable moments and when members of DePauw University's Class of 2003 accept their diplomas in May, the images and sounds of the ceremony will be preserved on DVD. For a second year, the University's Offices of Media Relations and Instructional Media Services will produce a DVD of Commencement 2003, which will present the event in the popular, high-quality digital video format with features that tape cannot offer. The discs are available for $25 for the first copy, and $10 for each additional copy being sent to the same address. You can access an online order page by clicking here.
DePauw's 164th annual commencement ceremony will take place Sunday, May 18, and will feature a speech by John McWethy, chief national security correspondent for ABC News and a 1969 graduate of DePauw (read more here).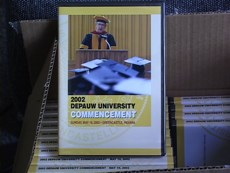 Again this year, the DVD's menu will allow users to go directly to a speech and, as diplomas are being distributed, even access a particular letter of the alphabet. "If your last name is Miller, for instance, and you click on the letter 'M' in the menu, you're immediately taken to the first person whose last name begins with the letter 'M' receiving his or her diploma," says director of media relations Ken Owen '82. "There's a lot less guesswork than in rewinding a tape, and while a video cassette deteriorates over time, the DVD and its pristine picture and digital sound should provide years of enjoyment. The picture you show your grandchildren should be as clear as the day you unwrap the disc for the first time."
This marks the fourth DVD that DePauw has produced. In addition to the disc of the 2002 Commencement, digital platters of the last two Monon Bell games have been created and distributed. The discs are mastered by Owen and professionally replicated in limited quantities by Sony Digital Disc Manufacturing.
The May 18 ceremony is scheduled to begin at 1 p.m. on East College lawn. If the weather is inclement, the event will be moved inside to the Lilly Center.
Back