Prof. Dennis Trinkle Writes of 361° in New Online Journal
March 17, 2003
March 17, 2003, Greencastle, Ind. - A feature article in the inaugural issue of Transformations, an online journal dedicated to liberal arts education in the digital age, examines DePauw University's 361° initiatives. The editors of the journal invited Dennis A. Trinkle, associate coordinator of information services and technology, and Tenzer University Professor in Instructional Technology at DePauw, to contribute the piece.
In a letter welcoming readers to the first issue of Transformations, the editors note, "Dennis Trinkle reports on the widely publicized and influential 361° Initiative at DePauw University. The Initiative is the result of a 20 million dollar grant from the Lilly Endowment. Its goal is to establish DePauw as a national model for the 'marriage of digital fluency with the classic critical thinking, writing, and speaking strengths of a liberal arts education.'"
In the article itself, Dr. Trinkle, a 1991 graduate of DePauw, writes, "DePauw University has long stressed preparing students for every aspect of life that they will encounter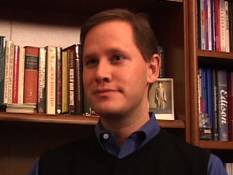 after graduation. Author and alumnus John Jakes describes this as 'preparing the whole person for the full circle of life.' DePauw also has a rich tradition of cultivating future leaders, and this heritage is captured in the University motto: 'Uncommon Success Begins at DePauw.' With its technology initiatives, DePauw wants extend these two traditions into the twenty-first century, by preparing students to thrive in and to help create the digital age. Thus, the 360 degrees symbolize the preparation of DePauw students to pursue any direction after graduation, and the additional degree represents the expectation that students will be prepared to create the future and new paths, as well as to travel existing ones."
Trinkle describes the programs, and states, "361° activities are now found in every aspect of campus life, in every building, in every academic and administrative department, and in every residence hall. They are supporting, enhancing, and transforming every dimension of teaching and learning. In short, they are helping the University refine and extend its historic strengths for the digital age."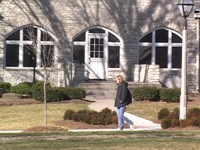 Dr. Trinkle tells DePauw.edu, "the fact that they wanted an overview of our programs as a national model for their first issue shows that we are living up to the ambitious mission statement that we set for our 361° initiatives. DePauw has much to show for two years work. I cannot wait to see what we achieve by 2005."
You can view the article online by clicking here. Learn more about the 361° initiatives here.
Back