NCAA Chief Gives DePauw "Gold Star" at "Incredible" Event
March 17, 2003
March 17, 2003, Greencastle, Ind. - DePauw "gets a gold star," said NCAA President Myles Brand at the Division III Indoor Track & Field Championships Saturday. "Not only do I compliment them, I thank them. DePauw is doing an incredible job. This is not the easiest thing to do. It's quite special," Brand said in comments to reporters that are published in today's Banner-Graphic of Greencastle.
At the event, which drew an estimated 1,500 spectators as well as athletes from across the USA, the women of Wheaton College in Massachusetts claimed their fifth straight national championship, while the University of Wis.-La Crosse men won their third straight.
You can access results, and a photo gallery, by clicking here.
"Division III student-athletes are doing it for the love of the game," Brand told reporters at the event. "Division I is different. Athletes have the opportunity to play for a scholarship." Looking around DePauw's indoor tennis and track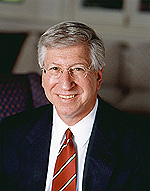 center, Brand added, "I think this is what college athletics are all about. Everyone should feel good about it. It's rather a special kind of event. It's a feel-good event. These (athletes) are the best of the best. Everyone should feel proud."
The 2003 Division III Indoor Track & Field Championships and host DePauw were mentioned in a number of newspaper summaries across the USA. They included the Boston Globe; Michigan's Adrian Daily Telegram; the Oneonta Daily Star of New York; the Press of Atlantic City in New Jersey; the Free Lance-Star of Fredericksburg, Virginia; the Miami Herald; California's Monterey County Herald and the Springfield News-Sun of Ohio.
Back