Tania León at DePauw April 2-6 to Perform and Discuss 'Music of the 21st Century'
March 20, 2003
March 20, 2003, Greencastle, Ind. - Composer, pianist, and conductor Tania León will be the featured guest in the DePauw University School of Music's first edition of the "Music of the 21st Century" series to be held on the DePauw campus April 2-6. Two concerts featuring León's music and a Latin American music symposium are planned during her visit. Free chamber concerts with faculty and student performances will be presented on Friday, April 4, at 7:30 p.m. and on Sunday, April 6, at 3 p.m., both in Thompson Recital Hall of the Performing Arts Center.
On Saturday, April 5, from 9 a.m. to 5 p.m., in the Watson Forum of the Eugene S. Pulliam Center for Contemporary Media, the School of Music will host an interdisciplinary symposium entitled "Cultural Intersections in Latin American Art Music: The Music of Tania León". The symposium will include papers and a roundtable discussion, featuring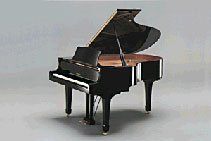 scholars from DePauw and other institutions throughout the country presenting work specifically on the music of León and discussing Cuban and Latin American art music and culture in general.
Born in Cuba, Tania León has lived in New York since 1967. She is highly regarded as a composer and conductor, as well as for her accomplishments as an educator and advisor to arts organizations. She was a founding member and the first music director of the Dance Theatre of Harlem, established the Dance Theatre's music department, music school, and orchestra, and instituted the Brooklyn Philharmonic Community Concert Series.
Ms. León's current projects include a ballet in collaboration with choreographer Donald Byrd and the Mosaic Ensemble, commissioned by the National Endowment for the Arts, and a work for violin and electronics. Her works have been performed

throughout the world. León has been a guest lecturer at Harvard University, Yale University, Smith College, Oberlin, and the Musikhochschule in Hamburg, Germany. She has received honorary degrees from Colgate University and Oberlin College. In 2000, she was named the Tow Distinguished Professor at Brooklyn College, where she has taught since 1985.
A complete schedule of DePauw University School of Music events can be accessed by clicking here.
Back