Andrew Paine Jr. '59 Inducted in Central Indiana Business Hall of Fame
March 27, 2003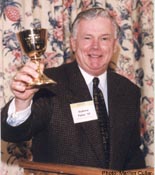 March 27, 2003, Greencastle, Ind. - When Andrew J. Paine Jr. "was a senior at Chicago's Senn High School, his father strongly suggested that he enroll at University of Illinois, or at a small, private college in Indiana called DePauw University in Greencastle," notes an Indianapolis Business Journal article marking the induction of the 1959 DePauw graduate into the Central Indiana Business Hall of Fame.
It continues, "In 1954, Paine enrolled at DePauw as an economics major with 'a strong dose of accounting.' In fact, Paine points to his minor in speech as one of the most useful to his future career." Andy Paine is the retired president and CEO of NBD Indiana Bank and a member of DePauw's Board of Trustees.(photo shows Paine receiving the Old Gold Goblet at DePauw, October 2000)
Paine says his speech classes at DePauw "greatly prepared me for some of my future professional career challenges. I didn't understand it at the time, but I found it was one of my differential advantages."
After graduating from DePauw, the article points out that Paine turned down a full scholarship from the University of Chicago's M.B.A. program because "I was in love with Jane Medaris ['60]. I didn't want three more years of slugging it out with books. I wanted to get out and get married. I felt it was time to make some money." The IBJ profile says, "DePauw's graduate placement program helped Paine get a job as a management trainee for the Illinois Bell Telephone Company." Shortly afterward, he took a sales job with a publishing company, then about a year later began his long and successful career in banking.
In 1961, Paine had been offered three banking jobs in Chicago but decided to test the waters in Indianapolis. "I put on my shiny shoes and with my three Chicago offers in my pocket, I went into the office of the chairman of the board at the Indiana National Bank," Paine recalls. "I met his secretary Nell Larrison and I said 'I'm from Chicago and I'm looking forward to a career in Chicago, but I just thought I'd come in and see if there might be an opportunity here." As the story concludes, "Paine's aggressive, confident approach worked. Within 10 minutes, he was in the office of INB Chairman Pat Flynn discussing his interests, qualifications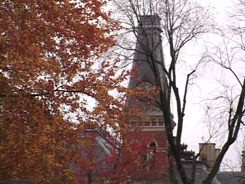 and getting to know the bank." The recent graduate wound up with a better job offer than he'd received in the Windy City, including full tuition to earn an M.B.A., which he did.
The lengthy profile says that Paine has been, and remains, a positive force in his community, as a "strong supporter of various organizations such as DePauw University, the Indianapolis Museum of Art, the new Indiana State Museum, the United Way of Central Indiana, the Indianapolis Symphony Orchestra and the International Violin Competition. 'I feel strongly that leaders of organizations should support the community -- especially if you expect your employees to do the same,' Paine says. 'I'm proud to say my wife embraces that concept and we have tried to be aggressive in our financial support of not-for-profits in our community.'" The article includes several photos, including a color portrait of the Paines, who have been married for
more than 42 years.
Another 2003 Central Indiana Business Hall of Fame honoree, retired Eli Lilly & Co. CEO Randall L. Tobias, is the son of 1929 DePauw University graduate Roy Tobias, IBJ notes. The awards are sponsored by Junior Achievement.
Back