The Saint Louis Brass Quintet Ends the 2002-03 Performing Arts Series Tuesday Night
April 1, 2003

[DOWNLOAD AUDIO: "Hear St. Louis Blues" 468KB]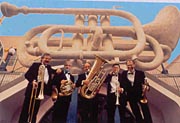 April 1, 2003, Greencastle, Ind. - For an evening of fun with brass, come see, hear and enjoy the Saint Louis Brass Quintet at the DePauw University Performing Arts Center, Tuesday, April 8 at 7:30 p.m. Tickets -- $8 for general admission, $5 for students and senior citizens -- can be purchased or reserved at the DePauw Performing Arts Center Box Office in person, via the phone (765-658-4827) or by sending an e-mail here. The concert marks the final event in DePauw University's 2002-03 Performing Arts Series.
Although the members of the award-winning Saint Louis Brass Quintet wear tuxedos when they perform, audiences are pleasantly surprised at the upbeat, relaxed and informal atmosphere this quintet creates. With extraordinary grace, the ensemble transforms the stuffy formality often associated with classical chamber music, combining professionalism and showmanship, to produce a thoroughly enjoyable musical experience for all. The Kansas City Star noted, "[The Saint Louis] Brass Quintet adds zaniness to its talents. Diverse material combined with imaginative presentation marked the engaging concert."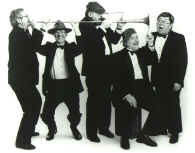 At an Arizona concert, "The crowd went quadruple bananas," wrote the Phoenix Gazette.

[DOWNLOAD AUDIO: "Hear South of the Border" 434KB] These virtuoso brass performers bring pleasure to their craft as they perform and discuss music covering a wide spectrum -- music of the Renaissance, popular America jazz, Argentinian tangos and a tongue-in-cheek history of the brass instruments from the time of King Tut to present day. The ensemble will perform a variety of selections featuring music from their Pops Music of the Americas CD, among others. A new and exciting twentieth-century work, Arias by James DeMars, will be premiered during this tour. This piece was recently commissioned for the ensemble. Another tour premier, Anthony Plog's Aeosop's Fables, will be performed, weaving music with the clever, well-known stories. On the lighter side are Dixieland Medley (with excerpts from When the Saints Go Marching In, St. Louis Blues, Five Foot Two, and more) and a special arrangement of Sweet Georgia Brown by jazz arranger Joey Sellers. New to the Quintet are three tangos by the noted Argentinian composer Astor Piazzolla.
Since 1964, the Saint Louis Brass Quintet has been performing throughout the United States and Europe and continues to thrive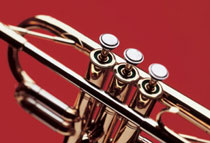 as a top-notch ensemble. Members of the group include trumpet players Allan Dean, from Yale University, and Ray Sasaki from the University of Texas. Horn player Thomas Bacon now solos with the Houston Ballet and Melvyn Jernigan, formerly with the Saint Louis Symphony, plays trombone. Tuba player Daniel Perantoni is currently an instructor at Indiana University Bloomington. The members are well-known as soloists and clinicians and have collectively traveled around the world, performing at various venues, festivals and with first-class ensembles.
For more information on the concert, click here. Don't miss this evening of fun and great music!
Back