National Science Foundation Grant Allows Students to Explore Research Careers
April 4, 2003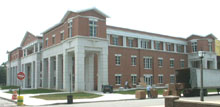 April 4, 2003, Greencastle, Ind. - The National Science Foundation has awarded DePauw University a three year grant totaling $177,591 for support of the project, "REU Site: Research Experiences in Computer Science for Students at Undergraduate Institutions." Under the direction of associate professor of computer science David A. Berque and professor of computer science Carl P. Singer, the project will enable 24 undergraduate students (8 per summer for 3 summers) to take part in a cutting edge, team-based research project. This grant is the fourth in a series of three-year grants that have collectively spanned a dozen summers.
"The program benefits DePauw students (as well as students enrolled at other liberal arts colleges) by giving them the chance to sample what a research career might be like," according to Dr. Berque (seen at right). "In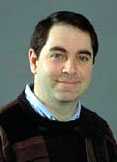 some cases, this program can be the factor that helps a student determine that they want to apply to graduate school and embark on a research career." Dr. Singer (photo below left) adds that the project, "is realistic in that real research is conducted by teams, a model that us frequently used in business and graduate school. The program also has elements designed to encourage students to seriously consider graduate school as an option; elements such as our annual trip to the University of Michigan computer science department for a tour, interaction with computer science faculty members and a graduate student panel. The program also benefits DePauw faculty members by giving them an opportunity to work with talented students on projects they may not otherwise be able to explore."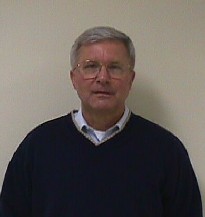 The NSF grant provides funds to pay eight student researchers for ten weeks of team-based research with a computer science faculty member. Teams consist of two to three students and the faculty member who collaborate on an area of mutual interest. The student researchers will also have the chance to participate in number of special events including an overnight trip to visit a major research institution (to learn about opportunities for graduate study), hear talks by visiting speakers, and make presentations about their own research.
Visit the computer science department's Web page by clicking here.
Back