New Play by DePauw Playwright-in-Residence Femi Osofisan Opens Friday
April 6, 2003
April 6, 2003, Greencastle, Ind. - Femi Osofisan, the esteemed Nigerian playwright, is currently the Lee G. Hall Distinguished Playwright-in-Residence at DePauw. Osofisan has written and produced over forty plays and published nearly twenty-five. He is also highly regarded for his poetry, novels, songs, essays and acting experiences. A two-time winner of the valued Association of Nigerian Authors Award, Osofisan draws from the chaotic political and social strife in Nigeria and other African nations as a basis for many of his works. Sometimes labeled as controversial, his writing portrays the richness and intricacies of familial and communal ties amidst the fragments of civil uneasiness.
During his residency at DePauw, Osofisan is working with theatre students and faculty. A workshop production of his new play, Wèsóò Hamlet! (or The Resurrection of Hamlet) is being directed on campus by Ron Dye. The production will be performed in Moore Theatre of DePauw's Performing Arts Center on April 11, 12, 13, 18 and 19 and is the final DePauw Little Theatre production of the 2002-03 season. Friday and Saturday performances begin at 8 p.m. and Sunday at 1 p.m. This modern tragedy is a unique adaptation of the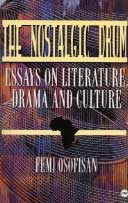 Shakespearean classic, Hamlet, which incorporates elements of traditional Yoruba culture and modern Nigerian issues and lifestyles.
Born in 1946 in Iloto, Osofisan was raised in the traditions of the Yoruba culture. He was attending college when civil war erupted in 1966, a major turning point in Nigerian history. The war undoubtedly affected his writing, enriching his already intense social consciousness. Nearly all aspects of contemporary life in Nigeria are touched upon in Osofisan's diverse and vast body of work. He has a strong following and has become known as a leader of progressive social causes.
The DePauw production also includes African drumming and dancing. The drumming was coordinated by Francis Awe, the founder and master drummer of the renowned Nigerian Talking Drum Ensemble. This well-known percussion group has performed around the world and been featured on television (UPN's Moesha, Growing Pains, African Portraits and Frank's Place) and also in films such as Strange Days. The group has collaborated with major recording artists including Stevie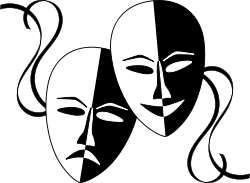 Wonder and Michael Jackson. Awe is scheduled to appear in the production during the April 11-13 performances.
Tickets for the production can be purchased at the Performing Arts Center Box Office and are only $6 for adults and $3 for students. There will be a post-show discussion in Moore Theatre with Femi Osofisan directly following the performance on opening night, April 11. On Saturday, a reception will be held following the performance at the Gathering Grounds on Jackson Street (cash bar). Both the post-show discussion and reception are free and open to the public. For more information, send an e-mail by clicking here.
Back