IUPUI's Sagamore Writes of Spike Lee's DePauw Visit
April 7, 2003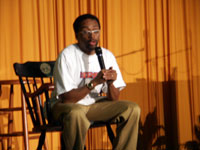 April 7, 2003, Greencastle, Ind. - "The director of Do the Right Thing does his thing right at DePauw University," reads the headline in today's edition of the Sagamore, the student newspaper at IUPUI (Indiana and Purdue Universities in Indianapolis). The paper's arts and entertainment editor, Damien Belliveau, provides a lengthy account of filmmaker Lee's Timothy and Sharon Ubben Lecture at DePauw last Thursday night, which drew an estimated 2,100 people to Neal Fieldhouse of the Lilly Center.
The story recaps Spike Lee's comments on the war in Iraq, the state of the movie industry and the negative role models that young black Americans have to choose from.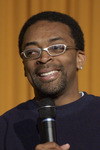 Belliveau writes, "Happy with the progress made in cinema, but saddened by the state of rap music embodied by gangsta rap stars like 50 Cent, Lee nonetheless closed out his lecture on a positive note. 'Right now is the most exciting time to be in the world,' Lee said, 'in the history of our civilization.'"
You can access the article in its entirety by clicking here.
An account of Spike Lee's DePauw visit, including photos and audio and video clips, can be found here. A brief video is embedded below.
Back