Lloyd Flanders '62 Named Sr. VP of Neurocrine Biosciences
April 10, 2003

April 10, 2003, Greencastle, Ind. - Lloyd E. Flanders, Ph.D., a 1962 graduate of DePauw University, has been appointed senior vice president of Neurocrine Biosciences, Inc. (Nasdaq: NBIX). Dr. Flanders, who brings over 31 years of biotech and pharmaceutical experience in the areas of research, new product approvals, product development and program management, previously served as senior vice president, technology operations and program management at Elan Pharmaceuticals.
"We are fortunate to have a person of Lloyd's caliber join our senior management team," said Gary Lyons, president and chief executive officer of Neurocrine Biosciences. "His extensive knowledge in the science and development needs of the biotech industry will bring experience and discipline to Neurocrine's future development efforts."
A company news release notes that "Dr. Flanders attended the University of California at Davis where he received a Ph.D. in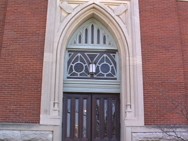 comparative biochemistry and biophysics. He also attended Lake Forest School of Management, Lake Forest College where he received an M.B.A. and DePauw University where he received a B.A. in zoology and chemistry. Additionally, he was a postdoctoral fellow at the University of Wisconsin, School of Medicine."
Neurocrine Biosciences, Inc. is a product-based biopharmaceutical company focused on neurological and endocrine diseases and disorders. You can learn more at the company's Web site by clicking here.
Back