Four Distinguished Individuals to Receive Honorary Degrees at Commencement, May 18th
April 11, 2003
Visit a Special Commencement Web Page; Order Your Commencement DVD
April 11, 2003, Greencastle, Ind. - DePauw University will honor four distinguished individuals with honorary degrees at its 164th annual Commencement, Sunday, May 18, 2003, at 1 p.m. on East College lawn (weather permitting). The recipients will be:
David S. Broder – Doctor of Political Science. A Pulitzer Prize-winning journalist, David Broder is one of the nation's most distinguished writers and television commentators. Broder writes a twice-weekly column on the American political scene for the Washington Post that is syndicated and carried by more than 300 newspapers across the globe.
In addition, millions of television viewers recognize Broder for his regular appearances on NBC's Meet the Press and CNN's Inside Politics.
An American University survey of the Washington press corps concluded "David Broder's integrity and hard work have led him to be anointed the unofficial 'chairman of the board' by national political writers." U.S. News & World Report called Broder "the unchallenged 'dean' of what many political reporters like to think is their 'priesthood.'" David Broder has won numerous awards, including the National Society of Newspaper Columnists Lifetime Achievement Award, the prestigious 4th Estate Award from the National Press, and he is a member of the Hall of Fame of the Society of Professional Journalists (Sigma Delta Chi), which was founded at DePauw University. He presented an Ubben Lecture at DePauw in November 1993.
G. Robert DeLong '57 – Doctor of Science. Professor of pediatric neurology at Duke University, Dr. DeLong was the 2002 recipient of the E.H. Christopherson Lectureship award, honoring contributions to pediatric medicine internationally, by the American College of Pediatrics. In 1980 while a consultant in Ecuador, Dr. DeLong first encountered iodine deficiency and protein-energy malnutrition among that country's poor. His interest in endemic cretinism (mental retardation and cerebral palsy that can result from iodine deficiency) led DeLong to further studies in Congo, Bhutan, China, Kazakhstan and Siberia.
More than a decade ago in China's Xinjiang Province, where 1 in 10 children suffered from severe iodine deficiency, Dr. DeLong conceived the idea of supplementing the region's irrigation water with iodine. In 1997, a major expansion of the program was undertaken with the support of Eunice Kennedy Shriver of the Kennedy Foundation, Kiwanis International and UNICEF, so that 2.6 million people ingested enough of the essential mineral to end the cycle of disease and infant mortality rates were cut in half. A second, similar project was undertaken in Tuva, in Siberia, and is now fully operational.
Dr. Gordon Worley, a pediatrics professor at Duke who nominated DeLong for the Christopherson award, said of DeLong's work, "This is social responsibility at its best... In 1854, Dr. John Snow traced a cholera epidemic in London to water from the Board Street Pump. He took the handle off the pump and the epidemic subsided ... Dr. Snow would recognize Dr. DeLong as a kindred spirit." The recipient of the Harvard Shriver Center Prize for Mental Retardation Research (1995) and named one of the "Best Doctors in America" (1999-2001), Robert DeLong is married to his DePauw classmate Nancy (Ade) who has assisted as a full collaborator in all of his international field work. Dr. DeLong's mother (Ruth Wagoner DeLong '32) and sister (Helen DeLong Gilbert '60) also graduated from DePauw.
James W. Emison '52 – Doctor of Humanities. The chairman of the board and CEO of Western Petroleum Company and president of Western International Trading Company, Food Services Inc., and JBJ Dining Inc., James Emison is also a director of Hydrocarbon Trading and Transport Company; a founder, director and principal shareholder of the Community Bank Group in Minnesota;
a partner in Bellwood Partnership, City Centre East and Riverview Business Plaza; and was a founder and former director of the Suburban National Bank.
Upon graduating from DePauw University in 1952, Emison served the United States Marine Corps on active duty until 1954, then began his career in the oil industry. A Trustee of DePauw University who co-founded the Center for Management and Entrepreneurship and is active in all aspects of University life, Jim Emison is also currently a trustee of the American University of Central Asia, is a member and director of the executive committee of The Association of Governing Boards of Universities and Colleges and is a member of the National Association of Scholars. He also serves on the National Petroleum Council, and is a member of the American Petroleum Institute, the Northwest Petroleum Association, the Minnesota Petroleum Association and the Twin Cities Oilmen's Association. Emison has also served on the board of governors of the Marine Corps Association and as a trustee of the Marine Corps University Foundation. In 1987, Emison was awarded DePauw University's Old Gold Goblet, presented annually by the University to an alumnus in recognition of "eminence in life's work and service to alma mater."
Mary Patterson McPherson – Doctor of Letters. President Emeritus of Bryn Mawr College and vice president of The Andrew W. Mellon Foundation, Mary Patterson McPherson has said, "One purpose of a liberal arts education is to make your head a more interesting place to live inside of for the rest of your life."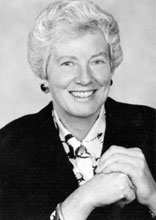 The recipient of an A.B. from Smith College, an M.A. from the University of Delaware, and a Ph.D. from Bryn Mawr College, McPherson held numerous academic and administrative posts at Bryn Mawr from 1961 through 1997. She was made acting president in 1976 and served as president from 1978-97.
Since 1997, Dr. McPherson has served as vice president of the Andrew W. Mellon Foundation, one of the nation's most influential philanthropic supporters of higher education. McPherson serves on the board of directors of Josiah Macy Jr. Foundation, JSTOR, The Philadelphia Contributionship, and Goldman Sachs Asset Management. She is on the board of trustees of Smith College, and The American School of Classical Studies at Athens and is a member of The American Philosophical Society and the American Academy of Arts and Sciences. She is former chairman of the Middle States Accreditation Teams (1973-83), director of the Provident National Corporation, the University Museum and the American Council on Education. She has previously served on the board of directors of the Phillips Exeter Academy, Wilson College, International House of Philadelphia, Greater Philadelphia Movement, the Judicial Inquiry and Review Board of Pennsylvania, the University City Science Center, the Carnegie Foundation for the Advancement of Teaching, the National Humanities Center, Provident National Bank of Philadelphia, the Brookings Institution, Carnegie Corporation of New York, the Dayton Hudson Corporation, Bell Telephone Company of Pennsylvania, Amherst College, Humanity in Action, Bank Street College and The Spencer Foundation.
The commencement address will be provided by John McWethy, chief national security correspondent for ABC News and a 1969 graduate of DePauw University, who received an honorary Doctor of Journalism degree from DePauw at last May's Commencement. This year, McWethy will be presented with the McNaughton Medal for Public Service,
which honors the memory and commitment to public service of 1942 DePauw graduate John McNaughton. In 1967, shortly after being appointed Secretary of the Navy, McNaughton and his wife and son were killed in a plane crash. That same year, the friends and family of John and Sally McNaughton, led by then Secretary of Defense Robert McNamara, established a memorial at DePauw in the form of the McNaughton Medal for Public Service, which has been awarded on seven previous occasions. Previous recipients were chemist Percy L. Julian (DePauw 1920) in 1972; William D. Ruckelshaus, administrator of the U.S. Environmental Protection Agency in 1984; U.S. Representative and 1952 DePauw graduate Lee H. Hamilton in 1987; Emory University President James T. Laney in 1990; Vice-President of the United States Dan Quayle (DePauw 1969) in 1990; civil rights leader and 1957 DePauw graduate Vernon Jordan in 1993; and U.S. Senator Richard Lugar in 2001.
Read more about 2003 Commencement and John McWethy by clicking here.
Back