Post-War Period Presents An "Opportunity to Rebuild a New Middle East", Egyptian-American Activist and Former DePauw Professor Saad Eddin Ibrahim Says
April 16, 2003
April 16, 2003, Greencastle, Ind. - With conflict in Iraq winding down,
[DOWNLOAD AUDIO: "A New Middle East" 174KB] "There is an opportunity to rebuild a new Middle East that is more democratic, and therefore, more peaceful," said Saad Eddin Ibrahim, the Egyptian-American scholar and activist and former DePauw University professor whose imprisonment and eventual acquittal drew worldwide attention, as he returned to Greencastle this afternoon. "During my ordeal and even before that, I have maintained that the only alternative to the likes of Saddam Hussein and the likes of Osama bin Laden is democracy," Dr. Ibrahim told reporters, shortly before attending a reception in his honor at the Student Social Center of the Walden Inn.
On March 18, Egypt's highest court acquitted Ibrahim of a variety of charges, including tarnishing Egypt's image -- charges that he had been convicted of twice previously in trials that were criticized internationally. Thomas L. Friedman of the New York Times wrote that Ibrahim's only crime, one he spent some 16 months in prison for, was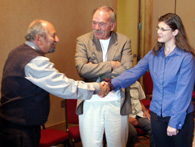 "promoting democracy -- for promoting the peaceful alternative to fundamentalist violence."
Ibrahim said today,
[DOWNLOAD AUDIO: "A Better Tomorrow" 363KB] "Only under democratic rule could we avoid the emergence or reemergence of secular autocrats like Saddam Hussein or theocratic autocrats like Osama bin Laden. I still stand by this proposition... and I hope those who waged war -- war that could have been avoided but has already happened -- I hope we can hold them accountable to their promises of building democracy in Iraq, and promoting or helping democrats elsewhere in the region. And I hope you here in the United States will help us to hold in the U.K. and the U.S. accountable for the promises they made shortly before the war and during the war."
Professor Ibrahim, who taught at DePauw from 1967 to 1974 and is married to 1971 DePauw alumna Barbara (Lethem) Ibrahim, who accompanied him today,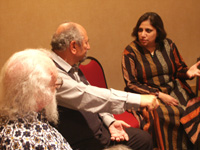 was greeted by former colleagues and recent additions to the DePauw faculty, former and current students and friends from the Greencastle community. He says that leaders in the Middle East must now realize that building democracies "is the only alternative to further wars," and he is confident democracy will be embraced.
[DOWNLOAD AUDIO: "Islam and Democracy" 382KB] "Our people are ready for it, our people are able to practice it. And don't listen to anyone who talks about 'clash of civilization' or that 'Islam is anti-democratic,' this is nonsense... Islam does not prevent people from becoming democratic. After all, three or four of the biggest countries in the world are mostly Muslim and democratic. It's true -- it's not a west-administered democracy, it's not an ideal democracy in Tunisia or in Bangladesh or in Turkey -- but these countries are democratic. It nullifies [and] invalidates the argument that somehow Islam is anti-democratic or is not friendly to democracy. This argument we heard before 50, 60 years ago vis-a-vis the Japanese culture, vis-a-vis the German culture."
The 64-year-old Ibrahim stated, "You take freedom for granted until you're in prison. We take so many things for granted until we lose them." The professor was jailed three different times during his legal struggle.
[DOWNLOAD VIDEO: "Savoring It" 687KB]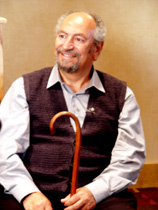 "And every time I was released I rediscovered freedom and I appreciated it more than ever. And therefore, I was determined to hang on to every moment, every day of freedom and to savor it, to enjoy it." Even though he has been acquitted, Ibrahim is mindful that freedom can be precarious.
[DOWNLOAD AUDIO: "To America" 173KB] "When we finally restored our passports and bought tickets to travel [to America], I did not believe that I was going to actually get out of the country until the plane took off. And even until the plane left the Egyptian airspace I wasn't sure that we would make it to the States. But we finally did, through London."
Dr. Ibrahim thanked his many DePauw friends, "for your solidarity of the past few years." Last October, more than 70 protesters, many of them alumni and students of DePauw University, demonstrated outside of the Egyptian Cultural Center in Washington, D.C., calling for Dr. Ibrahim's release from prison (
[DOWNLOAD VIDEO: "DePauw's Influence" 844KB]
[DOWNLOAD AUDIO: "DePauw's Influence" 171KB]
"I never realized that the brief period I spent at DePauw as a professor, as a young professor, would come back and prove to be so crucial -- both in terms of my life and in terms of the cause for which I went to prison."
Now a sociology professor at the American University of Cairo, Ibrahim called his time teaching in Greencastle,
[DOWNLOAD AUDIO: "Glorious Years" 225KB] "glorious years in terms of the generation of the 60's. Even though I was a young professor, I identified more with the students and immersed myself in the students' subculture of those years... [they were] my students but also my friends, and I was part of their groups and they were part of my formation. They thought I taught them, but they actually taught me as much, if not more, than I taught them...
[DOWNLOAD AUDIO: "Gratitude" 577KB]
Those years have proven to be very crucial in my formation, in my life -- I ended up marrying a DePauw student who kept me honest all those years. Being a young radical is one thing, being a husband [and] falling back into conservative male culture of the Middle East, was a hard thing. Of course, she kept reminding me of everything I said in class and held me accountable! 'You told us this,' it was really hard ... but thankfully, I was very grateful that she kept me honest and she has proven to be a strong supporter, a stalwart of wisdom and stamina. And if there's a real hero in this whole case, she really is the heroine. She and my daughter. I'm thankful for the years I spent at DePauw... for the support I got from the faculty and the students. I'm grateful to [political science] Professor Bob Calvert for the lead he took in making the student body and the faculty of DePauw aware of my case and keeping DePauw on the radar screen throughout."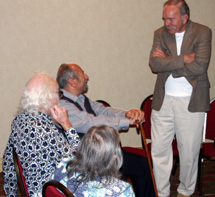 Finally, Saad Eddin Ibrahim offered some advice to today's DePauw students.
[DOWNLOAD AUDIO: "Getting Involved" 430KB] "I have said in lectures that I made after my acquittal and in a recent article that I used to teach my students here at DePauw in my Social Movement class to get involved, to be part of what's going on. And I also warned them not to expect involvement in social movements to be a picnic -- that a price may have to be paid. And that all social movements in history were manned by young people like themselves, and therefore, they ought to not waste the opportunity to get involved. I never realized, however, that the price that people will pay would wait until the age of 60 in my case. So, people prepare all of your life to pay a price for what you really believe in and you'll never regret it. It is very fulfilling, it is rewarding, and that would be my message: get involved and stay involved even though you may have to pay some price."
Back