Prof. Dennis Trinkle '91 Co-Authors Chapter in New Book
April 18, 2003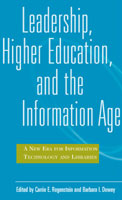 April 18, 2003, Greencastle, Ind. - Dennis A. Trinkle, director of 361° initiatives, associate coordinator of information services and technology, and Tenzer University Professor in Instructional Technology at DePauw University, co-authored a chapter in the new book, Leadership, Higher Education, and the Information Age. The chapter by Dr. Trinkle, a 1991 graduate of DePauw, is entitled "Strategic Planning for the Smaller Institution."
In the introduction to the chapter, Trinkle writes, "For many smaller institutions the daily challenges of managing and leading an IT organization make strategic planning seem a luxury, an extravagance that only schools with far larger resources can afford. This attitude may be easy to understand but it cannot be allowed to endure. Demands on IT organizations have never been greater, the pace of change has never been faster, and the stakes have never been higher. No IT organization, including the smaller IT organizations (and perhaps especially the smaller organizations), can afford the luxury of not being actively engaged in strategic planning. Failure to plan strategically condemns the IT department to a perpetual cycle of reaction and infrequent, incremental progress. Reactive crisis management never provides an Archimedean lever than can move an organization forward. Smaller organizations need an approach to strategic planning that
recognizes their unique circumstances and resource limitations. The purpose of this article is to provide such a scalable, strategic planning model."
You can learn more about the book here, and order it at Amazon.com by clicking here.
Dennis Trinkle has authored eleven books, most recently The Napoleonic Press -- The Public Sphere and Oppositionary Journalism (read more here). Access all of the titles here.
Back