Demolition of Rector Hall Begins
April 22, 2003

[DOWNLOAD VIDEO: "Demolition Begins" 1000KB];

[DOWNLOAD VIDEO: "More Demolition Video" 717KB];

[DOWNLOAD VIDEO: "The Roof Comes Down" 994KB]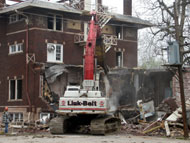 April 22, 2003, Greencastle, Ind. - At nine o'clock this morning, under gray, windy and chilly conditions, an excavator began the job of demolishing Rector Hall. The 86-year-old dormitory on the DePauw University campus that was gutted by a fire last April 7 is making way for Rector Village -- seven, three-story brick townhomes that will house 136 students. (

[DOWNLOAD VIDEO: "The Fire" 627KB])
"This is a bittersweet moment in DePauw's history," DePauw University President Robert G. Bottoms said on February 5, when plans for Rector Village were announced. "Circumstances dictate that we must tear down Rector Hall, a building that is dear to many alumni and which has served the University so well.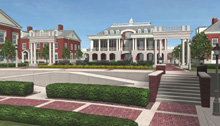 But those same events create an opportunity for us to build upon a housing concept that has proved extremely successful, and that will help us as we continue to attract the nation's brightest students. I'm confident that all members of the DePauw family -- young and old -- will be pleased with Rector Village."
The townhome concept has proved to be very popular with DePauw students. To meet the demand for housing after the Rector fire, last summer DePauw constructed nine two-story duplexes behind Roy O. West Library that house eight upperclass students each. Work is underway on five additional duplexes, which will be ready for the fall semester.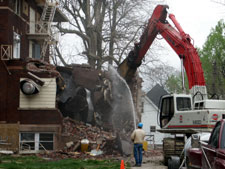 The process of demolishing Rector Hall will take about a week. Crews are using a claw device instead of a wrecking ball to minimize noise and dust.

[DOWNLOAD AUDIO: "The Process" 111KB] "We believe it will take about five days to get the building completely on the ground," says Steve Jansen, project superintendent for CSO Architects Engineers & Interiors. "Starting next week, they'll start loading the building out. We think that process will take about 25 to 30 days to get all of the rubble hauled out and get the site ready for new construction." Work on Rector Village will begin in late June or early July.
Jansen says the new structures

[DOWNLOAD AUDIO: "Something Special" 157KB] "will be something special. CSO has worked closely with DePauw to maintain the integrity of the architecture on campus and that's been taken into account in the buildings... They'll be very attractive, upscale buildings that'll house students for years to come."
All students safely escaped the fire at Rector Hall, but two firefighters were slightly injured battling the blaze,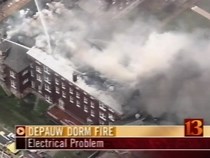 which took about two dozen firefighters about six hours to bring under control. The State Fire Marshal ruled the fire was caused by electrical appliances in the fourth floor room where the blaze started, but because of heavy damage in the area, investigators could not pinpoint which appliance was to blame. One hundred sixteen DePauw students lived in the dorm at the time of the fire.
Read more about the fire at Rector Hall here, here and here. A story about the duplexes that opened in August can be accessed by clicking here.
(photo assistance by Stan Jastrzebski '03)
Back