Building Democracy in Iraq May Take a Generation, Two Leaders Say in Middle East Forum at DePauw
April 22, 2003
April 22, 2003, Greencastle, Ind. -
[DOWNLOAD AUDIO: "Post-Saddam Middle East" 213KB] "In the short term, that is immediately, I don't think there's much doubt that one major threat in the region -- Saddam Hussein -- has been removed, and that is a major plus for the United States and for the region and for the world," former U.S. Congressman and 1952 DePauw University graduate Lee Hamilton said this afternoon as he discussed "The Middle East: The Past, Present and Future" in Meharry Hall of historic East College. Joined by William A. Brown, former U.S. Ambassador to Israel and Thailand, Hamilton added, "The more difficult question is the longer term -- is it more or less of a threat. Frankly, I don't think that we know, and it will depend upon how the United States conducts itself in the region in the post-Saddam Hussein period." (pictured, l-r: William Brown and Lee Hamilton)
Ambassador Brown stated that with the first Persian Gulf war,
[DOWNLOAD AUDIO: "Short vs. Long" 216KB] "We bought the nation [and] the region 10 to 12 years time. The same will apply now. We have bought, I would say, 10 to 20 years of opportunity, challenge [and] risk. What they, what we, what others do with that time remains to be seen. But I think the immediate threat is very much diminished for the very short term."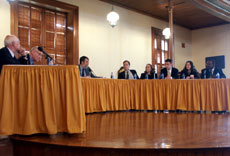 Both men, however, say the road to democracy in Iraq will take a long time to build, has no guarantees of success and will require much in the way of patience, perserverence and diplomacy.
[DOWNLOAD AUDIO: "Building A Democracy" 215KB] "Building a democracy in this country is not a job of a year or two, it's a job probably of a generation because it has none of the institutions of democracy," Hamilton said. "We tend to think a little too easily in this country, I think, that if you have an election you therefore have a democracy. But elections are the end of the process not the beginning of the process, and one of the big mistakes we could make incidentally would be to rush elections too quickly here. We made that mistake in the Balkans and we ought not repeat it." For there to be a true democracy created in Iraq, Hamilton says the United States must be willing to embrace all outcomes, including the potential for a leader elected by the Iraqi people who the U.S. has some problems with. Hamilton says America must enter the process of democratizing Iraq with
[DOWNLOAD AUDIO: "Modest Expectations" 124KB] "modest expectations."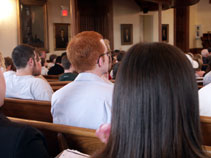 Brown, who served as US Ambassador to Israel twice (1989-1992 and 1993-1994), was U.S. Ambassador to Thailand from 1985-1988, and is now chairman of the board of trustees of the Harry S. Truman Research Institute For the Advancement of Peace at The Hebrew University of Jerusalem.. added that with the costs and risks of fully democratizing Iraq in mind,
[DOWNLOAD AUDIO: "Debatable" 151KB] "I think this is going to remain, or should remain, a major point of debate in such foras as this -- universities, across the land and in Congress -- because we're talking about the potential application of huge American resources that could be, it might be argued, better spent domestically and so forth."
Hamilton says the number one issue in the Arab world is the Israeli-Palestinian conflict.
[DOWNLOAD AUDIO: "Uppermost Issue" 132KB] "That's what's uppermost in their mind, and they want the United States to become involved in the resolution of it," something the former congressman says is key. Hamilton, who now serves as director of the Woodrow Wilson International Center for Scholars in Washington, D.C., and director of the Center on Congress at Indiana University, and is
a member of the President's Homeland Security Advisory Council and is vice-chairman of the National Commission on Terrorist Attacks Upon the United States, added,
[DOWNLOAD AUDIO: "Not Going to Happen" 268KB] "I do not buy the argument that is made in Washington frequently today that the momentum that has been created because of the victory in Iraq will wash over the rest of the Middle East and you will suddenly resolve the Palestinian-Israeli conflict. That is not going to happen. There may be some momentum there, but it's momentum only to the point of the United States getting more directly involved. The fundamental issues that exist in that conflict still exist no matter what happened in Iraq."
Part of the solution, according to Hamilton, lies in the United States putting pressure on its long-time friend Israel, something recent administrations have been unwilling to do.
[DOWNLOAD AUDIO: "Moving Forward" 189KB] "Will [President George W.] Bush say to [Israeli Prime Minister Ariel] Sharon, 'OK, you've gotta pull back on those [Palestinian] settlements'? Will he also say, which he will, to the Palestinians,
'You've gotta reform your government; you've got to stop your terrorism and your killing'? And these things must go forward in parallel, not the Israeli position, which is the Palestinians do what's required of them and then we will act.'"
The panel was moderated by DePauw professor of political science Bruce Stinebrickner and featured questions from four DePauw students who are political science majors -- seniors Charlie Shivers and Elizabeth Morgan and juniors Todd Hambidge and Amanda Link -- and professor of religious studies Jeff Kenney, who also served on the panel. The program concluded with a lengthy question-and-answer session with members of the audience.
Back