Poet and Scholar Peter Balakian to Speak Monday, Holocaust Memorial Day
April 25, 2003

April 25, 2003, Greencastle, Ind. - DePauw University will commemorate Holocaust Remembrance Day on Monday, April 28, with a presentation by poet, critic, and memoirist Peter Balakian. At 7:30 pm in the ballroom of the Memorial Student Union Building, Professor Balakian will read from his 1997 memoir Black Dog of Fate and examine the ways in which the survivors of genocidal violence transmit psychological trauma across generations. The event is free and open to the public.
In Black Dog of Fate, awarded the 1998 PEN/Martha Albrand Prize for Best Memoir, Balakian tells how he gradually came to learn about the 1915 Armenian genocide while growing up in an Armenian American household in suburban New Jersey during the 1950s and 1960s. As a reviewer for the New York Times wrote, Black Dog of Fate "is at once a family memoir, a history of the extermination of the Armenians in Turkey and the story of a young man's passage into adulthood." Combining a poet's sensitivity to language with the moral imperative to document a campaign of genocide that established an important and chilling precedent for the Jewish Holocaust, Black Dog of Fate has joined the company of other powerful works in the literature of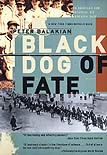 witness, such as Elie Wiesel's Night and Primo Levi's Survival in Auschwitz.
Balakian, Donald M. and Constance H. Rebar Professor of the Humanities and Professor of English at Colgate University, has also authored five books of poetry, including Sad Days of Light, which consists of a series of poems about the Armenian genocide and its impact upon his family. Calling Sad Days of Light "an extraordinary book," James Dickey has described Balakian as an author of "poetry about genocide that is truly, in every thrust, pause and detail, real poetry."
You can read more about Peter Balakian by clicking here.
Back