Assistant US Attorney General Deborah Daniels '73 Writes Op-Ed in USA Today
April 30, 2003
April 30, 2003, Greencastle, Ind. - "DNA evidence is the most powerful crime-fighting tool since fingerprinting," writes assistant U.S. attorney general Deborah J. Daniels in an op-ed piece published in USA Today. "But it doesn't work unless law enforcement agencies can compare the critical data and solve crimes."
Daniels, a 1973 graduate of DePauw University, argues that states should require DNA samples from all convicts so that a comprehensive federal DNA database can be accessible to investigators. "States should be able to share data they've lawfully collected with other law enforcement agencies. This would ensure more convictions, less crime and fewer victims," she writes, adding, "President Bush has made the improvement of DNA crime fighting techniques a major initiative. The president has proposed a five-year, $1 billion plan to modernize labs, eliminate backlogs and provide funding for training and technical assistance. It is simply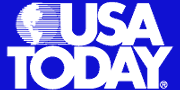 unacceptable that more than 350,000 rape and homicide samples await DNA testing, simply because of a lack of resources."
You can read the entire article online by clicking here.
Back