National Organization, Citing 361°, Names DePauw a 'New Media Center'
April 30, 2003
April 30, 2003, Greencastle, Ind. - The New Media Consortium (NMC) has notified DePauw University it has been named a New Media Center for its 361° initiatives. Since the NMC's founding in 1993, only about 125 institutions described by the organization as "exceptional, innovative and visionary" have been granted this designation, which "denotes an organization deeply committed to expanding the boundaries of teaching, learning, and creative expression."
Dr. Larry Johnson, president and CEO of the NMC, noted, "Even among a very strong field, it was quite clear that DePauw University is a place where smart, creative people are devising innovative solutions to challenges we all face in teaching and learning. The dedication to excellence here is palpable, and students and faculty are the clear beneficiaries. This recognition is well deserved," Johnson added.
"This is a strong indicator that we have begun to achieve the ambitious goal that we set for our 361 Initiatives of becoming a national model for the use of technology in
liberal education," says Dennis A. Trinkle, coordinator of 361° initiatives, associate coordinator of information services and technology, and Tenzer University Professor in Instructional Technology at DePauw.

[DOWNLOAD AUDIO: "Achieving the Objective" 138KB] "The honor shows that national leaders are recognizing the innovation and systemic progress happening at DePauw," adds Dr. Trinkle, a 1991 graduate of the University.
DePauw joins Carleton College, Wellesley College and Wesleyan University among peer liberal arts institutions to have received similar recognition. The overwhelming majority of institutions named New Media Centers are large research universities and major museums. DePauw is the first Indiana-based organization to be designated a New Media Center.
361° was created with the aid of a $20 million grant from Lilly Endowment two years ago. Its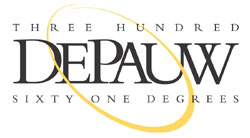 goal is to establish DePauw as a national model for the marriage of digital fluency with the classic critical thinking, writing, and speaking strengths of a liberal arts education. The national award, says Dr. Trinkle,

[DOWNLOAD AUDIO: "Momentum" 136KB] "gives us some momentum. One of the best things to drive projects and confidence is some early success and seeing that you really are accomplishing your goals. I think this is going to provide a great source of energy to faculty, staff and students."
Dennis Trinkle wrote of 361° in the inaugural issue of Transformations, an online journal dedicated to liberal arts education in the digital age. Read more by clicking here. Learn more about the 361° initiatives here. Trinkle says a quote by Anne Harris, assistant professor of art history at DePauw, nicely states the virtues of 361°.

[DOWNLOAD AUDIO: "Trust" 284KB] "She said what it changes is trust -- that it gives students trust in the curriculum, trust in the instructor [and], most important, it gives them trust in themselves, because now they're able to work with the material much more in-depth at their own pace online. That gives them a comfort with the material and a comfort in their abilities -- they're able to spend enough time immersing themselves in the materials that they have faith in their own knowledge, their own understanding, and parti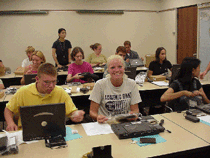 cipate more actively in class because of that [and] do a lot more critical thinking ... You don't think of trust as being something that technology fosters, but what it comes down to it ... she had it right on."
Four times in its history, the New Media Consortium has invited colleges, universities, museums, and other learning-focused organizations to be considered as New Media Centers. Since its founding in 1993, only about 125 exceptional institutions have been granted this designation. In recognition of its tenth anniversary, the NMC Board of Directors commissioned a fourth worldwide Search for Excellence in 2003 to identify fifty colleges, universities, and museums especially deserving of this honor.
The New Media Center Selection Committee considers applications against the following criteria:
Impact - How has the work of this organization influenced the conduct or efficacy of teaching, learning, or creative expression?
Innovation - How is this organization demonstrating innovation and creativity in teaching, in reaching students or the public, in the arts, or in its applications of technology?

Collaboration - Has the organization demonstrated that it is committed to collaboration both within and outside the institution?
Diversity - In what ways will this organization add to the NMC's community of innovators?
Viability - Do the efforts which have earned the organization consideration as a New Media Center seem sustainable over the long term? Does it have the vision and resources to remain committed to innovation and creativity for the long term?
Learn more about the New Media Consortium at the organization's Web site by clicking here.
Back