Indianapolis Star Notes DePauw's Record Admission Year
May 1, 2003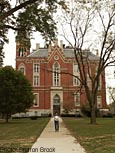 May 1, 2003, Greencastle, Ind. - "A marketing campaign at DePauw has resulted in more applicants, particularly from out of state, going from 2,424 in 1998 to nearly 4,100 so far for this fall," writes Barb Berggoetz in today's Indianapolis Star, adding, "With more applications, DePauw has been able to enroll higher-quality freshmen." The story is entitled "Getting into college is becoming harder: Applicants are up and admissions are down."
It continues, "As today's national deadline looms for students to reply to most colleges, the rise in applications to the most selective colleges here indicates competition is stronger than ever."
Lana Klene, guidance director at Lawrence North High School in Indianapolis, says of colleges, "If they have plenty of applicants, they can be choosier. Definitely, we've seen that trend."

You can access the article online at the Star's Web site by clicking here.
Read more about DePauw's fifth consecutive record-breaking year for admissions here.
Back