2003 Relay For Life Collects a Record $160,000+
May 4, 2003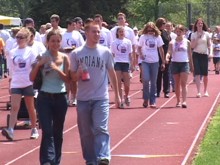 May 4, 2003, Greencastle, Ind. - "The people of Putnam County and DePauw are truly amazing and so dedicated to this cause," 2003 Putnam County Relay For Life co-chair Amanda Manning said today as the annual 24-hour marathon concluded with another record total and pledges still coming in. The fundraiser for the American Cancer Society has exceeded $160,000 this year, Manning and fellow co-chairs Keith Brackney, Tricia Cooksey and Peg Johnson announced Sunday. "We are proud to have helped put this event together and say thanks to the many people who made it another record-breaking year," Manning added.
[DOWNLOAD VIDEO: "Very Fortunate" 425KB] "We couldn't have ordered a better day than this," said co-chair Keith Brackney as the award-winning event began Saturday afternoon at DePauw University's Blackstock Stadium under sunny, blue skies and temperatures in the mid-60's. "We had rain last week and rain forecast for tomorrow, so we're really grateful." Organizers met their goal of assembling 125 teams, and had some 1500 walkers registered.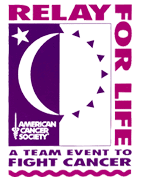 The $160,000 raised marks an approximately 25% increase over last year's Putnam County Relay For Life total of $127,000, which itself was a 50% increase from what was raised by the 24-hour marathon in 2001. "We keep outdoing ourselves, which is a tribute to the dedication of the many people throughout Putnam County and at DePauw who work year-round to make this the success that it is," Brackney said.
Putnam County Relay For Life, the oldest college-run Relay in the nation, has seen phenomenal growth. In 1998, the event raised $20,000. The 1999 total of approximately $30,000 was eclipsed by 2000's $42,000. Then, 2001 brought in $80,000, a total that was obliterated by last May's collection of $127,000 for the fight against cancer.
Putnam County Relay For Life was awarded the 2002 Heart of Relay Award for the Great Lakes Division, and the year before won the National Heart of Relay Award as the best college or university Relay in the USA.
Manning, a DePauw junior from Plano, Texas, noted Saturday afternoon,
[DOWNLOAD VIDEO: "Amanda Manning" 593KB]"We have a ton of people out here ... I think people are really excited to be here. There are a lot of people walking as you take a look around the track. It's gone well."
As Tricia Cooksey, a junior from Bloomington, Indiana, looked at the mass of people gathered for the fund-raiser she helped plan, she said,
[DOWNLOAD VIDEO: "Tricia Cooksey" 537KB]"It's kind of almost bittersweet, because I've been working on this for a year now and [while] it's so exciting to see everybody out here, I can't believe it's already here -- the year has gone by so fast... It's wonderful to be out here to see all the hard work that's gone into it. It's been really worth it."
Co-chair Peg Johnson noted, "This weekend does so much for our community, even as it raises important funds to fight cancer. To see the Blackstock track filled with people from the community and the campus, side by side, walking together and getting to know each other, is really a wonderful sight.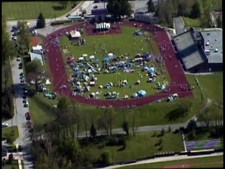 As important as this event is to the goal of eradicating cancer, it also brings the people who call Putnam County home together and creates new friendships, which is tremendous."
If you'd like to make a contribution to Relay For Life, send an e-mail by clicking here. You can get a flavor of what Relay For Life is all about in a video created by Chris Newton '85 of DePauw's Pulliam Center for Contemporary Media. Access the clips in this previous story.
Back