Video by Prof. Kevin Howley to be Screened in Ontario
May 5, 2003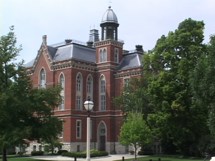 May 5, 2003, Greencastle, Ind. - Answer, a 16-minute video by Kevin Howley, assistant professor of communication arts and sciences at DePauw University, will be screened at "Lost and Underground," a short film screening and artist talk to take place Tuesday, May 27 at The Staircase Cafe Theatre in Hamilton, Ontario. Shot on MiniDV, Answer documents the events of October 27, 2001, when hundreds of demonstrators took to the streets of Boston to protest the U.S. military's bombing campaign in Afghanistan.
"This tape is a modest attempt to counter uncritical and jingoistic media coverage of the so-called 'war on terrorism,'" Dr. Howley says. "Independent media of this sort is crucial in times like this inasmuch as it demonstrates that for many Americans, war is not the answer. The tape's unconventional coverage of popular demonstrations highlights the importance of providing a forum for 'everyday' people to voice their dissent."
View a poster for the event by clicking here. Visit the Staircase Theatre's Web site here.
Back