Senior Wins National Award
May 7, 2003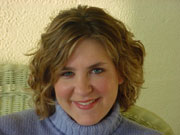 May 7, 2003, Greencastle, Ind. - Kathryn Johanna Longer, a DePauw University senior and member of Delta Zeta sorority's Delta Chapter at DePauw, is among five recipients nationwide of the 2003 Grace Mason Lundy Award. The Grace Mason Lundy Award is given annually to members of Delta Zeta who are college seniors. The women selected are leaders in campus and Sorority activities, have served their chapters with loyalty and devotion, and contributed to their chapters' advancement. Grace Mason Lundy recipients are also chosen because of the potential they hold for active alumnae involvement. The award is named after Grace Mason Lundy, a past National President of Delta Zeta.
A news release from the sorority's national office notes that "Kathryn is majoring in English and minoring in education... [and] is the vice president of programming for the Delta Chapter. She has also served her chapter as the C.O.B. Chair, the assistant Parent's Weekend coordinator, and the assistant Alumni Day coordinator.
She has been involved in her campus and community through the All Greek Initiation, the NPC Reflection Committee, involvement in DePauw Community Service, tutoring students in grades K-12, and as a newspaper journalist."
Delta Zeta Sorority was founded on Miami University's campus in Oxford, Ohio in 1902. The Sorority has over 181,000 alumnae and collegiate members in the United States and Canada. The Delta Zeta Foundation, a non-profit organization, makes possible gifts and support for scholarships, leadership, philanthropy, and education.
Back