Professor and Student Collaborate on Review in Journal
May 9, 2003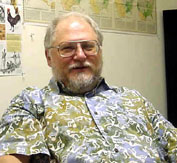 May 9, 2003, Greencastle, Ind. - Thomas D. Hall, professor of sociology at DePauw University, and Erica McFadden, a DePauw senior from Loveland, Ohio, co-wrote a review of the book Globalization: Capitalism and Its Alternatives by Leslie Sklair. The review appears in the Journal of World-Systems Research, which is sponsored by the Institute for Research on World-Systems at the University of California, Riverside, and the Center for Global, International, and Regional Studies at the University of California, Santa Cruz.
"Sklair's strength is in his explanations and examples, both in the text and visually through the charts and illustrations," the review in the online journal opines. "Each example draws upon aspects of life that most students are able to identify with and understand. Each example thus pulls the student into a new and deeper level of understanding globalization,
and distinctly shows how the students may or may not be contributing to globalization themselves. The charts and diagrams underscore the text and reinforce the complex arguments for students. The book is effective for the study of globalization at the undergraduate level because it addresses several different learning styles."
You can access the journal online as a PDF file (the Hall-McFadden review appears on pages 187-189) by clicking here.
Back