Watching the Forecast and the Skies as Commencement Draws Near
May 14, 2003
Visit Special Commencement Web Page; Order Your 2003 Commencement DVD
May 14, 2003, Greencastle, Ind. - Crews are assembling the staging area for Sunday's Commencement ceremony on East College lawn as rain clouds gathered over the campus at noon today. Students, their parents, friends and faculty members are keeping an eye on the weekend forecast in hopes of dry weather and an outdoor event. DePauw expects to award 473 Bachelor of Arts degrees and 14 music degrees at its 164th annual Commencement.
As of this writing (at noon Wednesday), the forecast calls for mostly cloudy skies on both Friday and Saturday with highs of 67 and 69 degrees, respectively. Sunday's outlook calls for a 30% chance of light rain. Commencement is set to begin at 1 p.m. on East College lawn, but will be moved indoors to the Lilly Center in the event of threatening or inclement weather.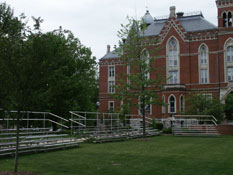 You can access the latest weather forecast for Greencastle by clicking here. You'll find lots of information on commencement at a special Web page, accessible by clicking here.
The Commencement address will be provided by John McWethy, chief national security correspondent for ABC News and a 1969 graduate of DePauw University (read more here). Mr. McWethy will also receive the McNaughton Medal, and four other distinguished individuals -- David S. Broder, G. Robert DeLong '57, James W. Emison '52, and Mary Patterson McPherson -- will receive honorary degrees on Sunday (read more here).
Back