Two Seniors Awarded Governor Bob Orr Entrepreneurial Fellowships
May 14, 2003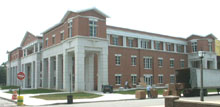 May 14, 2003, Greencastle, Ind. - Two DePauw University seniors, Alison Sales and Michael Vasey, are among seven college students in the state of Indiana to be awarded Governor Bob Orr Entrepreneurial Fellowships. Named after Indiana's 45th governor, the Orr Fellowships offer two-year placements in an entry-level job and leadership training including monthly meetings with some of Indiana's top entrepreneurs and business leaders. In addition, Orr Fellows attend entrepreneurial events and symposiums throughout the state and engage themselves in social and community service-related activities. Throughout these activities and experiences, the Governor Bob Orr Fellowship hopes to retain Indiana's top graduate talent, and aid in the development of Indiana's economy.
A news release posted at the Web site of Inside Indiana Business notes that Alison Sales, a DePauw senior from Indianapolis, will spend her Orr Fellowship at Exact Target, an Indianapolis-based provider of e-mail marketing software. The release says, "Alison learned about the advertising industry through her internships with Montgomery, Zuckerman, Davis Advertising Agency in Indianapolis and Foote, Cone, Belding Advertising in Chicago.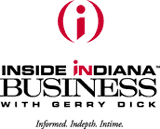 Alison was a member of the Management Fellows Honors Program at DePauw where she [will receive] a Bachelor of Arts in English writing and economics."
Michael Vasey, who hails from Jacksonville, Illinois, will spend his Orr Fellowship at re:Member Data Services, which was founded by 1975 DePauw graduate David Becker, one of the midwest's leading technology entrepreneurs (read more here). The news release states that "Michael was honored as a Holton Scholar, an exclusive merit scholarship based on academics, leadership, service, and values as well as earning a place on the Dean's, National Dean's List and the Management Fellow Honors Program. He also taught saxophone lessons to students while in school. He is a music business major with a minor in economics and management."
"The
interest in the fellowship awards has been overwhelming," says Bill Oesterle, chairman of the Orr Fellowships and chief executive officer of Angie's List (which, too, was founded by a DePauw alum, Angie Hicks '95; read more here). "It is encouraging as our efforts are designed to fight 'brain drain' by keeping the brightest students in the state."
You can read the news release online by clicking here. Two of the eight recipients of last year's first-ever Orr Fellowships were from DePauw. You can read about that here.
Back