Works of Three Faculty Members Noted in Newspaper
May 18, 2003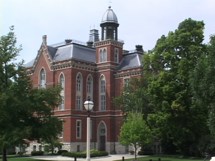 May 18, 2003, Greencastle, Ind. - The works of three DePauw University professors are spotlighted in today's edition of the Indianapolis Star.
In her column, movie critic Bonnie Britton writes, "Answer, a 16-minute video shot on MiniDV, by Kevin Howley, assistant professor of communication arts and sciences at DePauw University in Greencastle, will be shown May 27 in Canada. The video will be screened at "Lost and Underground," a short program and artist talk at the Staircase Cafe Theatre in Hamilton, Ontario. The events of Oct. 27, 2001, when demonstrators took to Boston's streets to protest U.S. bombing in Afghanistan, are documented in the video. Howley says the tape is an attempt to counter "uncritical and jingoistic media coverage of the so-called 'war on terrorism.' "
In the newspaper's book review section, Rich Gotshall notes, "Jim Crow New York, edited by David Gellman and David Quigley (384 pages, $65,
New York University Press), is a collection of documents about slavery and race relations in New York from 1777 to 1877. Gellman is a history professor at DePauw University," and "Emotion as Meaning: The Literary Case for How We Imagine, by Keith M. Opdahl ($55, Bucknell University Press), offers a new model of the mind based upon a new understanding of emotion. The author is professor emeritus of English at DePauw."
You can read the entire write-up on Dr. Howley by clicking here.
A story from DePauw.edu is accessible here. The column that includes the book reviews can be found here. Articles from this Web site on Dr. Gellman's book can be found here, and on Professor Opdahl's book here.
Source: Indianapolis Star
Back