Three Receive Honorary Degrees and Deliver Messages to Graduates at 164th Commencement
May 18, 2003
[DOWNLOAD VIDEO: "David Broder" 1000KB]
[DOWNLOAD AUDIO: "David Broder" 194KB] "With the kind of education that you have received here at DePauw, you will have in your lifetime many attractive but very difficult choices to make," Pulitzer Prize-winning journalist David Broder told DePauw's Class of 2003 as he accepted an honorary degree today at the University's 164th annual Commencement. Broder, who writes a twice-weekly, nationally syndicated column for the Washington Post was among three recipients of honorary degrees.
"After you've gone through all of the rational weighing of this factor and that factor, listen to your inner voice... and that will guide you better than anything else," said Broder, who received a Doctor of Political Science degree from DePauw today. He also advised the new graduates to "read widely and marry wisely."
"I'm very grateful to DePauw for what it gave me," said G. Robert DeLong, a 1957 DePauw graduate and internationally known physician and researcher, whose work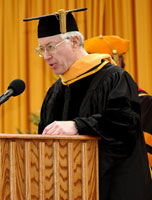 has improved the quality of life for many people around the world. Dr. DeLong introduced iodine into water supplies in some of the world's poorest places to battle iodine deficiency and protein-energy malnutrition. A professor of pediatric neurology at Duke University, DeLong was the 2002 recipient of the E.H. Christopherson Lectureship award, honoring contributions to pediatric medicine internationally, by the American College of Pediatrics.
[DOWNLOAD VIDEO: "G. Robert DeLong" 674KB] "I hope you will indeed and continually seek the wider world that DePauw has prepared you for," he told the Class of 2003. "I think it's important for America that you do so. It's important that we Americans not see the world as us against them --it's essential that we see ourselves as part of all of the world, as neighbors not as masters. This is truly a matter of American safety and continued promise. I urge you to take the best that you've learned at DePauw [and] don't fear to apply it in the global context." Dr. DeLong received an honorary Doctor of Science degree today.
James W. Emison, chairman of the board and CEO of Western Petroleum Company and president of Western International Trading Company,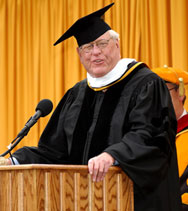 Food Services Inc., and JBJ Dining Inc., and a 1952 graduate of DePauw, received an honorary Doctor of Humanities degree.
[DOWNLOAD VIDEO: "James W. Emison" 1000KB] "You're going to come this way but once; you're going to have but a single chance to create a meaningful and exciting life," Emison, a member of DePauw's Board of Trustees, told the graduating class. "Arthur Miller reminded us that most men live lives of quiet desperation. Permit me to suggest a different outcome. Learn to become good risk-takers, dream no small dreams, [and] don't play it safe. Rather, go for it and persist and persist and persist." Emison also urged the 481 graduates to honor their obligations to their families, nation and University. "Your future gifts to DePauw will permit this wonderful pattern of success -- what I call the DePauw mystique -- to continue unabated," he said.
Mary Patterson McPherson, president emeritus of Bryn Mawr College and vice president of The Andrew W. Mellon Foundation, was scheduled to receive an honorary Doctor of Letters degree but could not attend today's ceremony due to illness.
Back