Jon Robert Cart '86 to Perform at Carnegie Hall
May 19, 2003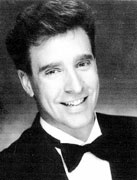 May 19, 2003, Greencastle, Ind. - "Jon Robert Cart was just 4 years old when his naturally-tuned musical ear helped him begin playing the piano. Thirty-five years later that musical talent has taken him to Carnegie Hall in New York City," writes Jennifer Eades of Cart, a 1986 graduate of DePauw University, in the Madison Courier. "Cart, who sings tenor and typically performs in operas, will perform a series of Spanish songs with a fellow music professor" at Carnegie Hall on June 17.
Cart, an assistant professor of music and chairman of the music department at Shippensburg University in Pennsylvania, will be joined by his colleague, Margaret Lucia, at the New York City performance. The story notes that Cart began piano lessons at age 6 or 7, fueling a lifelong passion. "Cart went to DePauw University on a music scholarship, thanks to the bassoon, with the intention of majoring in instrumental music. However, another whim changed his mind and has paid great dividends. 'In college, just on a whim, I decided to audition for a musical and I got the role and enjoyed it so much I decided to be a voice major,' he said. After DePauw, he obtained a Master of Music from Indiana University and a Doctor of Musical Arts degree in voice from the University of Maryland."
The article continues, "Today, he teaches full-time and performs with a few operas. He regularly performs with the
Amato Opera in New York, which is close enough to drive three hours for practice and still maintain his teaching schedule and care for his newly adopted 8-month-old son. He's also performed with the Opera Institute of California, the Albany Symphony, Baltimore Opera and recently performed at the Shaker Mountain Music Festival."
You can read the story in its entirety at the newspaper's Web site by clicking here.
Back