Indianapolis School Superintendent Pat Pritchett '69 Profiled in Indianapolis Star
May 19, 2003
May 19, 2003, Greencastle, Ind. - Duncan N. Pat Pritchett Jr., superintendent of Indianapolis Public Schools and a 1969 graduate of DePauw University, is the subject of a lengthy profile in Sunday's Indianapolis Star. "The significant thing that we have to do is to continue to increase student achievement," the 55-year-old Pritchett, who joined IPS in 1969 as a teacher and has been superintendent of the district for 6 years, tells the newspaper. "If you want to see Indianapolis move forward, then we've got to be a part of that."
The story, by the Star's Kim L. Hooper, cites the accomplishments IPS has made under Dr. Pritchett's leadership, critics who think the district needs to do more, and underscores Pritchett's commitment to, and love for, teaching. "His heart has never left the classroom," Hooper writes. "Yes, he manages a school system with 6,000 employees and oversees a $450 million-plus budget.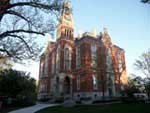 But, at least once a week, he totes books to schools to read aloud to young students to encourage reading."
Indianapolis Mayor Bart Peterson tells the newspaper, "I think that Pat has been exactly what IPS has needed. He's kept a vision for a better system in mind, and he's done it with a style that's not flash, but it's effective." A biography that adjoins the article mentions Pritchett's DePauw degree.
You can access the complete story online by clicking here.
Back