TV Station Covers DePauw Commencement -- See Clips Here
May 20, 2003
May 20, 2003, Greencastle, Ind. -
[DOWNLOAD VIDEO: "Tease" 271KB] "He sat in their seats years ago, now he's the one giving the Commencement address," anchor Ericka Flye said in a "tease" for the story. "ABCCorrespondent John McWethy makes a special trip back to Indiana."
In the story itself, which included clips of the procession of DePauw students on East College lawn and the awarding of DePauw degrees, Flye noted,
[DOWNLOAD VIDEO: "News Story" 714KB] "This was the 164th Commencement for the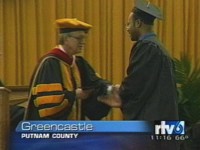 school. The keynote speaker today -- someone you may recognize -- John McWethy, is chief national security correspondent for ABC News. He's also a 1969 graduate of DePauw."
You can read a comprehensive story on John McWethy's speech, including video and audio clips and photographs, by clicking here.
Visit DePauw's special Commencement Web site by clicking here.
Source: WRTV (ABC)/Indianapolis
Back