Jennifer (Amos) Chesrown '92 Becomes Youngest & First Female Judge in Licking County, Ohio, Municipal Court
May 23, 2003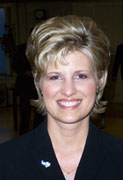 May 23, 2003, Greencastle, Ind. - "I worked very hard to learn as much as I could as quick as I could. I just never dreamed I'd be a judge at 32," 1992 DePauw University graduate Jennifer L. (Amos) Chesrown tells Ohio's Newark Advocate. This week, Chesrown, a former attorney, assistant prosecutor, deputy clerk of courts and Common Pleas Court magistrate, became "the youngest and first female judge in Licking County Municipal Court history," writes Kent Mallett.
"In schoolwork, gymnastics or helping raise her siblings, Jennifer Chesrown says she has always been serious, focused and driven to succeed," Mallett writes of Chesrown, who was appointed to her new position by Ohio Governor Bob Taft. She tells the newspaper, "It's important, as a judge, to not come into that position narrow-minded. If you take time to practice on each side of what makes up the court looking at you, I think it makes you fair and unbiased."
The story notes that "Chesrown graduated from DePauw University in Greencastle, Indiana," and recounts her difficult upbringing. Her parents were divorced and her mother battled drug problems, leaving Chesrown to raise her younger brother and sister. "I spent numerous nights searching for my mother and filing missing person's reports, only to have her returned home either high, beaten up, or both. After three months, my mother left one night, stole our college money from our accounts, and disappeared. I then packed my siblings in the car and hid until my family could come to Texas to take them safely and legally out of state. After the children were safely with my grandparents, I returned to law school in Houston to finish out the semester."
The 32-year-old Chesrown graduated from Case Western Reserve University School of Law in 1995. She says that what she's experienced "gives me a depth of understanding in people's situations most people I don't think ever experience."
You can access the complete story, which includes a color photo of Jennifer Chesrown, by clicking here. Read a news release from the governor's office on Chesrown's appointment here.
Back