Prof. Verna Abe Chairs 'Monster 2003' in Lafayette
June 4, 2003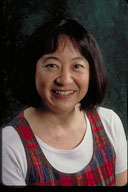 June 4, 2003, Greencastle, Ind. - "Monster 2003 is not giving into the digital age. It's staying true to its roots," writes John Jeanguenat in the Purdue Exponent of the biennial 'Monster' piano concert, which will take place at 7:30 tomorrow night at the Long Center for the Performing Arts in downtown Lafayette, Indiana, and will feature more than 200 pianists. "Verna Abe, general chairman of Monster 2003 and teacher at DePauw University, said this Monster piano show, which will feature 10 grand pianos on the stage, will not use the digital pianos that many Monster shows use. Pianists performing in the show will use acoustic pianos instead, the same kind of instruments that have been used in past monster shows at the Long Center."
You can access the complete article online by clicking here. The Long Center is located at 111 N. Sixth Street in Lafayette. For more information, call (765) 583-0348.

Last October, Abe, adjunct assistant professor of piano in the DePauw University School of Music, received the Distinguished Service Award from the Indiana Music Teachers Association at the IMTA's state convention. Read more about that here.
Back