Paperback Edition of Prof. Lili Wright's Learning to Float Ready for Release
June 4, 2003
June 4, 2003, Greencastle, Ind. - A paperback version of Learning to Float: The Journey of a Woman, a Dog, and Just Enough Men, a memoir by Lili Wright, assistant professor of English at DePauw University, will be released nationwide next week by Broadway Books, an imprint of Random House. The June 10 release comes one day shy of the one-year anniversary of Learning to Float's hardcover release by the same publisher. The paperback version sports a new, more colorful cover (seen in photo).
At the time of the book's initial release, Book magazine listed Learning to Float as one of "Summer's Hottest Picks," stating, "Lili Wright's debut, insightfully explores the excruciating process of finding love and discovering yourself. The thirtysomething journalist and professor shares her experiences driving down the East Coast from Maine to Key West, Florida." Joan Anderson, author of A Year by the Sea and An Unfinished Marriage noted, "Following Lili Wright as she floats from one seaside town to another is an invitation to break from our stodgy existences and experiment with adventure in our own lives. A must read, for not only the thirty-something crowd but those of us way beyond."
Lili Wright spent ten years as a journalist in New York, New Jersey, Connecticut, Utah, and Mexico. Her work has appeared in newspapers nationwide, including the New York Times and the Baltimore Sun. A graduate of Columbia University's M.F.A. program, she currently teaches creative writing and journalism at DePauw and lives in Greencastle with her husband and daughter.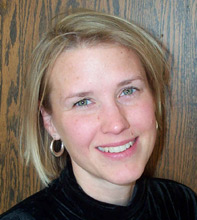 Wright has stated that she hopes Learning to Float provides encouragement to DePauw writing students, who she says,
[DOWNLOAD VIDEO: "Talented Students" 601KB] "have a lot of talent. I've already seen some of my better students going on to writing programs, and I know they're going to get published... It's an exciting thing to do and I hope that [this] will inspire them so they see that it's possible for them."
You can order the paperback edition of Learning to Float online at Amazon.com and Barnes & Noble.com.
Lili Wright wrote a humorous essay in the May 4 edition of the New York Times on her semester in Spain, and her difficulties in mastering the language. You can read more about it by clicking here.
Back