Alumni Reunion Weekend Draws More Than 2,000 Back to Campus; Class of '53 Celebrates a Record
June 7, 2003
June 7, 2003, Greencastle, Ind. - DePauw University's Class of 1953 is back on campus to celebrate their 50th reunion, and they returned to Greencastle with a record-setting gift. Sixty percent of the class' members contributed to DePauw's Annual Fund, a record participation percentage for a golden anniversary class. Their gift totals $2,168,255, and it was announced in dramatic fashion as members of the class unfurled a huge banner on the stage of Kresge Auditorium during this morning's Alumni Reunion Weekend Celebration.
[DOWNLOAD VIDEO: "Class of '53 Gift Unveiled" 692KB]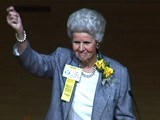 Elizabeth "Liz" Class Payne, an active volunteer in her community of West Hartford, Connecticut who has served as secretary of the Class of 1953 for more than 25 years, reminded her classmates that they graduated from DePauw 50 years ago today in ceremonies at Blackstock Stadium.
[DOWNLOAD VIDEO: "Elizabeth Class Payne" 1000KB] "So, as we continue on with our lives, keeping in mind the message we heard 50 years ago today at our graduation, let us remember to be the very best we can be, to always keep learning and to be grateful for our DePauw experience. Here's to you, the Class of '53... here's to you old DePauw," she said as the audience erupted in applause.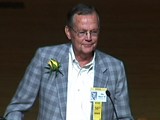 The second Golden Anniversary speaker, James K. Baker, the former CEO of Arvin Industries and Veridian and former chairman of DePauw's Board of Trustees, told his classmates,
[DOWNLOAD VIDEO: "James K. Baker" 1600KB] "DePauw was good to us. We had a lot of fun here, we learned a lot and we left ready to face a world that would change more than we ever dreamed. And we left with lots of lifetime friendships. Today, remember [that] no matter how many knees have been replaced, or how many hairs have fallen, or how many pounds have been gained, today it's okay to believe we're 20 years old. For when we're together, that is who we are. Have fun, reconnect, relive and remember. Thanks DePauw, for bringing us together. We are a great class."
Jane Brazes Funke, who worked in journalism and marketing and served her alma mater as an administrator from 1986 through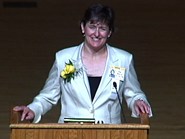 1993, delivered the silver anniversary address for her Class of 1978.
[DOWNLOAD VIDEO: "Jane Brazes Funke" 2300KB] "When we left DePauw 25 years ago, a lot of us were gonna conquer the world or change it, climb the corporate ladder, become rich and at least locally famous, be successful by the world's standards and, if you look at the biographical forms for our class, you'll see that a lot of us have done that. Most of us, though, have gone one better and redefined for ourselves what success really is: being a good parent; a caring son or daughter; a compassionate friend; making a difference in the life of a child who is not our own; loving, learning and continuing to learn at an age when a lot of people think they know it all; coming to believe that there is a greater power and a larger purpose; [and] bringing help and hope, healing and happiness to another human being. Without really knowing it, I think we laid the foundation for that kind of rich and rewarding life in the four years in Greencastle. And for that, we say 'thank you' and 'here's to you old DePauw.'"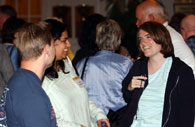 More than 2,000 DePauw alumni returned to campus for the events that began Wednesday evening and continue through Sunday. Events have included Alumni College lectures and book signings by DePauw authors John W. Jakes `53 and James B. Stewart `73, an alumni bike hike through Putnam County, the DePauw Challenge 5K Fun Run/Walk, an alumni art exhibit, and class reunion dinners.
At this morning's celebration, DePauw President Robert G. Bottoms thanked alumni for their gifts to the University, and told of how the donations fund scholarships for many
gifted students who could not otherwise afford to attend DePauw. Dr. Bottoms talked of how DePauw has become more nationally recognized and diverse in recent years, and the generosity and dedication of the University's alumni have been key.
[DOWNLOAD AUDIO: "The Past and the Future" 161KB] "As you gather and reminisce and think about this institution, do think about the past, but think about the future and what we've become and how worthy our students are and what hopes we have that they will do for their generations what so many of you have done for yours."
You can visit the Alumni Reunion Weekend Web site here. Click on your reunion class year to see who is attending. For a complete schedule of Alumni Reunion Weekend 2003 events, click here.
Back