Percussion Plus Project to Perform at International Women's Brass Conference
June 9, 2003
June 9, 2003, Greencastle, Ind. - The Percussion Plus Project, ensemble-in-residence at the DePauw University School of Music, will perform at the International Women's Brass Conference at Illinois State University on June 20. The ensemble will perform with internationally known tuba soloist Velvet Brown (seen in photo) in a work by DePauw faculty member James Beckel, as well as premiering another new work written for the group by Texas composer Alice Gomez.
Velvet Brown was the featured soloist with the Percussion Plus Project at concerts in February at DePauw and in Indianapolis, where the ensemble gave the premier performance of James Beckel's Concerto for Tuba and Percussion, a new work commissioned by the Percussion Plus Project. Professor Beckel is the principal trombonist with the Indianapolis Symphony Orchestra in addition to being a long-time member of the School of Music faculty.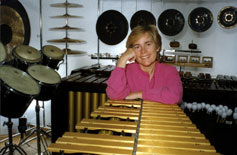 The Percussion Plus Project is under the artistic leadership of Amy Lynn Barber, dean of the School of Music (seen at right), and an internationally known percussion artist. The ensemble specializes in contemporary chamber music for unique combinations of percussion instruments with a guest soloist. Soloists this season have included mezzo-soprano Paulette Herbich from Vienna, Austria, and violinist Volodja Balzalorsky from Ljubljana, Slovenia, in addition to Ms. Brown.
Back