Brad Hauter '87 Completes Cross-Country Mower Ride for Charity, is ESPN 'Play of the Day'
June 9, 2003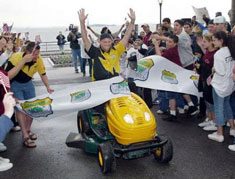 June 9, 2003, Greencastle, Ind. - Brad Hauter, a 1987 graduate of DePauw University, "has finished his second cross-country trip by lawn mower," the Associated Press reports. Hauter's 5,600 mile cross-country journey began March 19 in San Francisco and ended last Thursday in New York City's Battery Park. That would break the 1999 Guinness World Record Hauter set by traveling 4,000 miles from Atlanta to Santa Monica on a mower. But this record may require an asterisk, because on April 20 thieves stole Hauter's mower, and he had to finish his trip on a second machine.
"We are waiting to see because the mower was stolen, we did this on two different mowers, so we are waiting on Guinness' judgment on everything," Hauter, who is soccer coach at Rose-Hulman Institute of Technology in Terre Haute, tells the AP. Hauter's feat was covered by CNN and was one of ESPN SportsCenter's "Top 10 Plays of the Day" on June 6. "I played soccer for 10 years and never once made it onto SportsCenter. Now, I jump on a riding mower and I'm on the 'Top 10 Plays of the Day.' It's unreal."
Traveling at an average speed of 10 mph, Hauter was accompanied by a six-member support crew, raising $150,000 for Keep America Beautiful over 79 days. "This time we did more community events, trying to get people involved in our beautification efforts. I met a lot of great people along the way. It was an experience that I will never forget," Hauter said.
You can access the AP story by clicking here. The event, dubbed "Mow Across America," was sponsored by Yard-Man by MTD. Read more at the company's Web site here. Stories at Rose-Hulman's Web site are accessible here and here.
Back