Percussive Notes Reviews DePauw Band's Wind Journey CD
June 10, 2003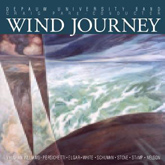 June 10, 2003, Greencastle, Ind. - The June 2003 edition of the Percussive Arts Society periodical, Percussive Notes, includes a review of the latest compact disc by the DePauw University Band. Reviewer John R. Raush states that the Wind Journey CD "includes convincing performances of such fixtures in the repertoire as Ralph Vaughan Williams' Flourish for Wind Band and Toccata Marziale, Vincent Persichetti's Serenade No. 11, Op. 85 for Band, and William Schuman's George Washington Bridge," as well as "a piece that will be of particular interest to percussionists, Donald H. White's Concertino for Timpani, Winds, and Percussion," where "the timpanist must not only play with rhythmic precision while interacting with the band, but must also be proficient in pedaling technique and possess a keen ear for the melodic demands of the part."
Raush continues, "In this performance, Craig Paré (an experienced timpanist in his own right), hands his conductor¹s baton to Thomas Stone, picks up a pair of timpani sticks and proves himself equally at home in the role of soloist. This is an opportunity for a generation that is probably ignorant of its existence to hear an excellent
performance of a piece that deserves a place in the college band repertoire."
The Percussive Arts Society, based in Lawton, Oklahoma, is a music service organization promoting percussion education, research, performance and appreciation throughout the world.
Dr. Paré is currently preparing the repertoire for the band's fifth CD to be recorded in April 2004 with associate dean of the School of Music and associate professor Carla Edwards performing as a soloist on the new University organ.
Read more about Wind Journey by clicking here.
Back