DePauw Among Pioneers in Digital Library Movement, Notes University Business
June 19, 2003
June 19, 2003, Greencastle, Ind. - "In Indiana, technologists at DePauw University have compiled more than 2,500 art history images, and digitized them for use by faculty and students in the DePauw Digital Image Database," writes Matt Villano in the June issue of University Business, in an article on universities on the front line of a growing trend: digitizing their libraries and putting them online. DePauw is the only liberal arts college mentioned in a group of profiles that includes all the chief digital library pioneers -- the University of Michigan, Carnegie Mellon, Stanford University, the University of California at Berkeley, the University of Illinois, MIT, the University of Virginia, and Cornell University. The piece also quotes Rick Provine, DePauw's technology librarian, who is a nationally-recognized expert on digital library initiatives.
"Those who know the digital library movement will be struck by our inclusion in this group, says Dennis Trinkle, director of 361° initiatives, associate coordinator of information services and technology, and Tenzer University Professor in Instructional Technology at DePauw University. "The University Business story illustrates the breadth and depth of DePauw's initiatives and of our technology staff and underscores the fact that this University is doing unique and remarkable things with technology," adds Dr. Trinkle, a 1991 graduate of DePauw.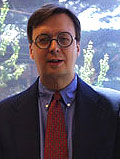 Of DePauw's digital art database, Villano writes, "With the help of an image-viewing software application from Luna Imaging Inc., university affiliates can access these images only online. The images range from ancient and medieval art to Renaissance and modern art, and include sculpture, paintings, and architecture. Though the database isn't extensive, according to Rick Provine, associate director of Libraries and Coordination of Technology [seen at right], it suits the 2,300-student liberal arts institution just fine. 'We are not some huge school with tons of resources we can throw at this [digital library] stuff,' he says. 'Our scale is smaller, our resources are smaller, and we're forced to be more creative.'"
The article states, "all over the country, researchers and university affiliates alike are beginning to understand the power and convenience of digital libraries. Once described as 'fantasy' projects for library science professionals, digital libraries now are seen as critical to the long-term survival of data. Just like traditional libraries with physical shelves and tangible books, these electronic archives contain everything from text to data, audio, video, images, and... music. The difference, of course, lies in the medium: Everything in a digital library

is, well, digital, meaning university affiliates can access data anytime from just about any place with a sophisticated computer and a secure Internet connection."
You can access the complete story by clicking here. Learn more about DePauw University Libraries here.
361° has recently picked up two awards, including being cited as a national New Media Center. Read more here and here.
Back