Stephanie Brown '03 Relives Childhood Brush with Fame
July 1, 2003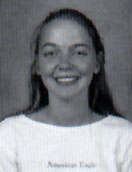 July 1, 2003, Greencastle, Ind. - "Hundreds of fans flocked to the Putnam County Fairgrounds Friday night to enjoy an evening of live music by the legendary Oak Ridge Boys, whose performance at the Greencastle venue could be considered fairly unique," wrote Brandy Richmond in Greencastle's Banner-Graphic. "But for one Coatesville admirer, the band's local appearance turned out to be more than just an opportunity to hear a band she's loved since childhood. For 22-year-old Stephanie Brown, it proved to be a reunion of sorts." Brown graduated from DePauw University in May.
Richmond writes that Stephanie Brown had an opportunity to meet with the band before the performance. "Although thrilled about the possibility of talking to each member of the Oak Ridge Boys, it was [Joseph] Bonsall, who acts as spokesman for the Oaks in addition to his role as tenor, Brown seemed to be most interested in seeing. But after all, it had been 17 years since they last met. 'He gave me this when I was five years old,' the recent DePauw graduate said, grinning as she brandished a scarred drumstick. 'We used to go to the state fair,' her mother explained, and during the
song Thank God for Kids, her young daughter 'really hammed it up. I guess because she was little, he put it right in her hand,' she said."
You can access the article in its entirety at the newspaper's Web site by clicking here.
Back