2003 Monon Bell to be Televised Nationally by HDNet
July 7, 2003

[DOWNLOAD VIDEO: "See The Ballad of the Monon Bell" 9364KB]
[DOWNLOAD AUDIO: "Hear The Ballad of the Monon Bell" 2900KB]

July 7, 2003, Greencastle, Ind. - The 2003 Monon Bell Classic -- the 110th football game between DePauw University and Wabash College -- will be televised live nationally by HDNet, America's leading all high definition national television network. Known as the "Battle for the Monon Bell," the annual football game between the two liberal arts schools located just 27 miles apart is one of America's most intense college football rivalries. The announcement was made today by Ken Owen, director of media relations at DePauw; and Jim Amidon, director of public affairs and marketing at Wabash.

[DOWNLOAD VIDEO: "1955 Monon Memory" 1772KB]
The game will be played at 1 p.m. (EST) on Saturday, November 15, 2003 at DePauw's Blackstock Stadium. The telecast will mark the game's first national network exposure since ESPN2 telecast of the 1994 Battle for the Bell. In the past, the game has been televised on ABC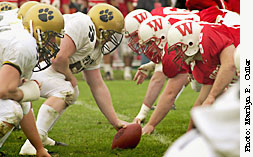 and featured on CBS' Sunday Morning, and has twice been featured in Sports Illustrated.

[DOWNLOAD VIDEO: "1990 Monon Memory" 3182KB] "We are pleased to bring the Monon Bell Classic to viewers everywhere in spectacular high definition," said Mark Cuban, co-founder of HDNet. "As fans from both teams watch the game in HDTV, they will feel as if they are right there in the stadium."
"This is an incredible opportunity to bring a great game and two nationally-recognized liberal arts colleges to a broad audience utilizing the best television technology that's ever been developed," said Owen. "Our alumni and parents will be able to tune in the game easily, and a national audience will see, many for the first time, what a great rivalry this is and learn about the two schools, their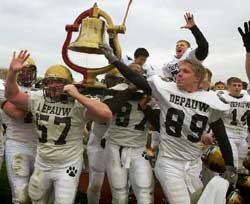 rich traditions and their fine programs. Everyone will experience the game in true high-definition (1080i HD), which I'd describe as film-like and awe-inspiring." (photo at left by Marilyn E. Culler)

[DOWNLOAD VIDEO: "2001 Monon Memory" 3701KB] "Just as HDNet is paving the way for the future of high definition television, the Monon Bell Classic is a showcase event in small college athletics," said Amidon. "We're tremendously excited to be associated with HDNet and its cutting edge technology. Our hope is that the rest of the country will learn what those of us close to the rivalry have known for years -- that the Monon Bell Classic is the best, most spirited rivalry in America."
Heading into the 2003 contest, the all-time series between Wabash and DePauw is knotted at 50-50-9. The two teams first clashed on the gridiron in 1890 and have met every year since 1911.


[DOWNLOAD VIDEO: "2000 Monon Memory" 1639KB] HDNet is available on DIRECTV, DISH network, Charter Communications, and several other cable providers. HDNet televises in the high definition format. To receive the game, you must have an HD-small dish and tuner, and an HDTV, and you must be a subscriber to one of these providers.
Even if you don't have high definition equipment in your home, you can get in on the action. For more than a decade the two schools have worked together to stage alumni parties across the nation where graduates and friends of the colleges can gather to catch up with friends and cheer on their favorite team. Alumni telecast parties will again be held in more than 40 states coast to coast.

[DOWNLOAD VIDEO: "1942 Monon Memory" 1967KB]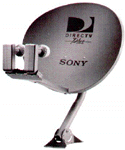 "Nothing gets our spirits up like the Monon Bell Classic," said Tom Runge, director of alumni affairs at Wabash. "For our alums across the country, getting together with alumni from DePauw is the next best thing to being at the game in person. This year, when state-of-the-art technology meets one of the most traditional sporting events in the NCAA, watching on HDTV will be almost like watching it live. We're all very excited."
DePauw's director of alumni relations, Chris Wurster, agreed and added, "People who are interested in serving as coordinators of Monon Bell telecast parties can get in touch with us immediately and we can begin working with them to find sites in their cities that have HD technology. The numbers are growing every day, and if you've never seen an HDTV football broadcast before, you're in for a treat."

[DOWNLOAD VIDEO: "1974 Monon Memory" 1811KB]
HDNet features a variety of HDTV programming,
including live sports, sitcoms, dramas, action series, documentaries, travel programs, music concerts and shows, special events, and news features, including the popular HDNet World Report -- all in spectacular HDTV. You can learn more and access a complete list of retailers and other establishments that carry HDNet by clicking here.
DVDs of the 2002 and 2001 Bell Battles are still available. Learn more, and order online, here. Access DePauw's Monon Bell Web page here. The alumni office also has a site with information on telecast parties and game tickets. Visit it by clicking here.
Back