James Baker '53 to Co-Chair State's Government Efficiency Commission
July 17, 2003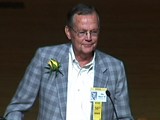 July 17, 2003, Greencastle, Ind. - James K. Baker, the retired CEO of Arvin Industries and Veridian and a 1953 graduate of DePauw University, is one of two Indiana business leaders "appointed Wednesday to lead a Hoosier 'Grace Commission' that will look for ways to cut waste in state government," the Indianapolis Star reports today. Kevin Corcoran writes, "Senate President Pro Tempore Robert Garton, R-Columbus, appointed Baker, the former chief executive of Columbus-based Arvin Industries who retired in 1998. The company, now ArvinMeritor, makes auto parts. Baker also has served on numerous corporate boards and as a trustee for DePauw University at Greencastle."
Baker and John Hillenbrand, who is also a veteran of many corporate boards and is a past chairman of the Indiana Chamber of Commerce, will lead "the 22-member Government Efficiency Commission, handpicked by legislative leaders, [which] will begin meeting after the entire panel is appointed August 16," the article continues. The panel will deliver its findings in late 2004.
"I'm very pleased with the integrity and history of the people who've been appointed to lead this commission," House Minority Leader Brian Bosma, R-Indianapolis, tells the Star. "I'm not certain any state has done a legislatively led review of state government expenditures at this level."

Read the complete article here.
James Baker, the former chair of DePauw's Board of Trustees, was one of the featured speakers when his class returned to the Greencastle campus for their 50th reunion last month. Read about that, and access a video clip of Baker's speech, by clicking here.
Back