Annie Corley '82 Featured in New Film Seabiscuit
July 25, 2003
July 25, 2003, Greencastle, Ind. - Movie lovers who are members of the DePauw University family will see a familiar face on the big screen in the film Seabiscuit, which opens nationally today. Annie Corley, a 1982 graduate of DePauw University, portrays Mrs. Pollard, the mother of the main character Red Pollard (who is played by Tobey Maguire) in the Universal Pictures release.
Annie Corley, who acted in plays while a student at DePauw, has appeared in a number of major motion pictures. She earned rave reviews for her performance in The Bridges of Madison County, in which she played Meryl Streep's daughter in the Clint Eastwood-directed film (screen grab below shows Corley in Bridges, courtesy Warner Bros. Pictures). Corley has also had roles in The Cider House Rules, Here on Earth, Juwanna Mann and Free Willy 3: The Rescue. On television, Corley has had guest roles on The Practice, NYPD Blue, Murder, She Wrote and The West Wing, and appeared in last year's TV movie The Pennsylvania Miner's Story. She'll also be seen in the recently-completed theatrical films Monster, with Charlize Theron and Christina Ricci; and 21 Grams, with Sean Penn, Benicio Del Toro and Naomi Watts; both of which are set to be released later this year.
Visit the official Seabiscuit Web site by clicking here.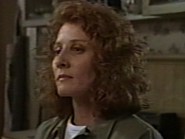 The film is receiving good reviews. In her review, the Indianapolis Star's Bonnie Britton points out "Annie Corley, a graduate of DePauw University, appears briefly as Pollard's mother." Read it here. "Stately, stirring Seabiscuit gallops to the front of the summer pack", reads a headline in today's Salt Lake Tribune (read it here). Roger Ebert of the Chicago Sun-Times writes, "I saw people crying after Seabiscuit ... It's yet more evidence for my theory that people more readily cry at movies not because of sadness, but because of goodness and courage" (read the entire review here).
Back