DePauw is First Liberal Arts College to Ever Receive Prestigious EDUCAUSE Award
August 7, 2003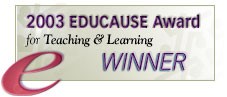 August 7, 2003, Greencastle, Ind. - DePauw University is a recipient of the 2003 EDUCAUSE Award for Systemic Progress in Teaching and Learning for its 361° Initiatives. One of six EDUCAUSE Awards for leadership and innovative use of technology in higher education, the EDUCAUSE Award for Systemic Progress in Teaching and Learning has never before been presented to a university or college that is not a doctoral/research institution. This prestigious honor recognizes campus-wide programs and practices that use information technologies to support student-centered teaching and learning in ways that are transformative, sustainable, and replicable. DePauw and its 361° team will be honored at the EDUCAUSE annual conference in Anaheim, California, on Thursday, November 6 where they will also make a presentation on DePauw's technology initiatives.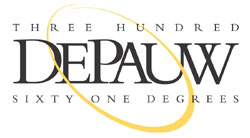 "DePauw's innovative program uses a central metaphor -- 'more than full circle' -- to represent the comprehensive preparation of students for their encounters with and use of information technology in all aspects of their professional and private lives," states a news release distributed by EDUCAUSE today, announcing the selection of 361° for the award.
Also receiving a Teaching and Learning Award this year is the University of Colorado at Boulder. Winners of the Award for Systemic Progress in Teaching and Learning are chosen by the EDUCAUSE Teaching and Learning Award Committee, whose members are selected for breadth of professional experience. The award is sponsored by Collegis, An EDUCAUSE Bronze Partner.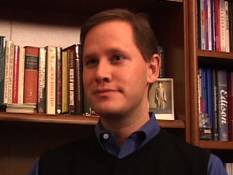 "The EDUCAUSE Award for Systemic Progress in Teaching and Learning is an exceptional honor," says Dennis Trinkle, director of 361° initiatives, coordinator of information services and technology, and Tenzer University Professor in Instructional Technology at DePauw. "The generous grant from Lilly Endowment has allowed us to make DePauw a national model for how technology can enrich and extend liberal arts education. We hear daily success stories from students, faculty members, and students who believe that their work, experiences, and community are being strengthened by 361°. That DePauw is the first liberal arts institution to receive this honor shows the power of our collaboration and collective efforts."
In February 2001, DePauw University received a $20-million grant from Lilly Endowment to establish a national technology center and launch a series of initiatives to guarantee that the university's 2,350 students, faculty, and staff will be equipped to provide the creativity and leadership required by the digital age. The name of the resulting model -- 361° -- refers to
DePauw's goal that these initiatives will prepare students for every degree of life and for creating the future. DePauw's efforts reinforce the institutional emphasis on critical thinking, problem-solving, interpretation, learning through experience, and learning through reflection. In this context, information technologies are integrated into curricular and co-curricular activities as a liberal art rather than in a skill-based approach, and IT tools are used as a scaffolding for discussion.
"We've known from our initial discussions with Lilly Endowment what a unique and influential program this would be," says DePauw University President Robert G. Bottoms.
"As a liberal arts college, we are committed to teaching critical thinking, speaking and writing, as we have been since DePauw was founded in 1837. Yet we're aware that today's world also requires people to be skilled in the use of technology and, moreover, to envision how today's tools can be used in new and innovative ways tomorrow. 361° is providing our students with an array of experiences that ensure that they will enjoy success in the workplace, in leadership roles in their communities and within their personal lives -- as DePauw graduates have for generations," Dr. Bottoms adds.
"We hoped that one of the outcomes of the 361° initiative would be an increased awareness of the excellent teaching and learning that occurs in Indiana and at DePauw in particular," says Sara B. Cobb, Lilly Endowment vice president for education. "The Endowment, therefore, is pleased by the news that DePauw has received this
distinguished award. The real 'winners,' of course, are all those whose lives are enriched by this effort -- both at DePauw and at other institutions with whom DePauw has willingly shared its expertise and experiences."
Among the 361° initiatives are:
Student Technology Assessment Resources and Training Program (START), through which students can assess and improve their technical skills, taking advantage of student-led workshops, Web-based training featuring University-developed modules, and one-on-one assistance from START's 20 well-trained student consultants
Information Technology Associates Program (ITAP), a three-year training program that provides special opportunities for up to 200 DePauw students to develop advanced skills in a range of information technologies including digital video production and Web design, information analysis, desktop and network hardware, along with career-development and leadership training
Faculty Instructional Technology Support (FITS), which helps faculty members enhance their own teaching and their students' learning through a focus on pedagogical applications of technology, FITS is supported by five full-time staff members. With the implementation of the 361° programs, technology utilization is being recognized in the faculty tenure-review process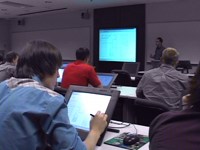 "From FITS' role in helping faculty members becoming even more effective in the classroom to CTEP's role in helping close the digital divide in Putnam County, our initiatives are having a deep and broad impact on and off campus," Dr. Trinkle, a 1991 graduate of DePauw, adds. "This award is being given to DePauw for a community-wide effort, and the hundreds of students, faculty members, staff members, and community partners who have contributed to 361° should take pride in this recognition. The EDUCAUSE Award provides an important affirmation of the success of all our efforts."
Recognition from EDUCAUSE marks the third time in recent months that 361° has been awarded for its innovation and excellence. In late April, the New Media Consortium (NMC) notified DePauw University that it has been named a New Media Center for its 361° initiatives (read more here), one of only about 125 institutions worldwide to receive the designation. Dr. Larry Johnson, president and CEO of the NMC, noted, "Even among a very strong field, it was quite clear that DePauw University is a place where smart, creative people are devising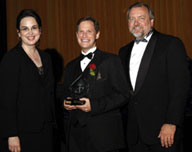 innovative solutions to challenges we all face in teaching and learning. The dedication to excellence here is palpable, and students and faculty are the clear beneficiaries." In May, DePauw was among three Indiana colleges and universities to receive Mira Awards for 361° 's "excellence in the delivery or use of technology to further learning and educational achievement" (see photo above left; read more here). The award was presented by TechPoint, the leading agent for change for Indiana's technology industry.
With a membership of nearly 1,900 colleges, universities, and education organizations and more than 180 corporations, EDUCAUSE is one of the preeminent associations addressing the complex issues of incorporating information
technologies and resources into the higher education mission. The association has offices in Washington, DC, and Boulder, Colorado. For more about the EDUCAUSE Awards, see the complete award applications and related URLs by clicking here. The mission of EDUCAUSE is to advance higher education by promoting the intelligent use of information technology. Visit the organization's Web site here. The story is also noted on the Web site of Inside Indiana Business (click here) and is mentioned in an Associated Press article (read it here).
Read the original announcement of DePauw's technology initiatives from March 16, 2001 by clicking here.
Back