New Rector Village Taking Shape; 2 Buildings to be Ready for Second Semester
August 12, 2003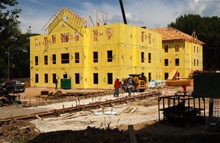 August 12, 2003, Greencastle, Ind. - When students return to campus they'll notice that Rector Village, a concept when they left in May, is well on its way to becoming reality. Foundations for the seven townhomes have been poured, rough-in framing of two buildings along Anderson Street (seen in photo) is nearing completion, and framing of two other units begins this week. "We're right on target to have the first two townhomes ready for occupancy in second semester, which has been our goal all along," says Dick Speller, vice president for finance and administration at DePauw.
Rector Village -- a series of seven brick townhomes with private suites that will house 136 students --
is being erected at the former site of Rector Hall, the 86-year-old dormitory on the DePauw University campus that was gutted by a fire April 7, 2002 (all students escaped safely; read more here). All of the rooms will be single occupancy; students will share common living and kitchen spaces with others on their floor. While the first two buildings in Rector Village will open next spring, the entire project should be finished by the fall of 2004. Two of the units have been named: Reese Hall (read more here) and Holmberg Hall (read more here).
"Students are going to really like Rector Village, just as they have embraced the duplexes we built after the fire at Rector Hall," says James Lincoln, vice president for student services.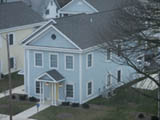 To meet the demand for housing after the Rector fire, last summer DePauw constructed nine two-story duplexes behind Roy O. West Library that house eight upperclass students each. This summer, eight more duplexes have been added, which will house a total of 80 students. "The range of housing options available to DePauw students has never been greater," Lincoln adds, "and our students, as well as prospective students who visit campus, report that the new single-room townhome concept is very attractive to them."
As Rector Village begins to take shape, the renovation and expansion of the Julian Science and Mathematics Center is now completed. Work began in the summer of 2001 on a project that has doubled the size of the structure, adding about 120,000 square feet of new space including an awe-inspiring three-story
open atrium. The Julian Center, which is home to DePauw's award-winning technology initiatives, 361° (read more here), features new, technology-enhanced classrooms as well as areas for study and research that have proven to be very popular with students.
Six-hundred-nine new students arrive on DePauw's campus a week from Saturday, August 23. Read about the incoming class by clicking here.
Back