Statewide TV Show to Spotlight 361°'s EDUCAUSE Award
August 13, 2003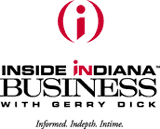 August 13, 2003, Greencastle, Ind. - Television viewers across the State of Indiana (and some in adjoining states who can receive Indiana television signals) will learn more about DePauw University's innovative and award-winning technology initiatives this weekend. Dennis Trinkle, director of 361° initiatives, coordinator of information services and technology, and Tenzer University Professor in Instructional Technology at DePauw, will be a guest on Inside Indiana Business. Dr. Trinkle will be joined on the program by Kyle Maynor '01, a systems analyst at Eli Lilly & Company. The two will discuss DePauw becoming the first liberal arts college to win the prestigious 2003 EDUCAUSE Award for Systemic Progress in Teaching and Learning for the University's 361° Initiatives.
"This is a wonderful opportunity to underscore to the business community, and to citizens, that DePauw has fulfilled its promise of becoming a national model for how
technology can enrich and extend liberal arts education," says Trinkle, a 1991 graduate of the University. "Kyle will join me to demonstrate that 361° is creating highly-skilled workers and thinkers for the new economy -- people who are equipped with critical thinking, speaking and writing skills that DePauw graduates have had for generations, as well as technological knowledge and skills. The EDUCAUSE Award, and two other honors 361° has received in recent months, are external validation that DePauw is doing innovative and important things that affect teaching and learning that can also positively impact the economy."
One of six EDUCAUSE Awards for leadership and innovative use of technology in higher education, the EDUCAUSE Award for Systemic Progress in Teaching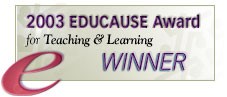 and Learning has never before been presented to a university or college that is not a doctoral/research institution. You can read more about the award, which was announced August 7, by clicking here.
For a listing of air dates for Inside Indiana Business as well as stations that carry the program, click here.
Back