Philharmonic of Indianapolis to Feature Two DePauw Music Professors in Upcoming Season
August 16, 2003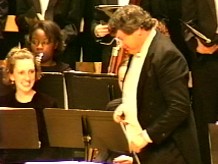 August 16, 2003, Greencastle, Ind. - "The Philharmonic Orchestra of Indianapolis will feature area guest artists in its 2003-04 concert season," notes an article in the Indianapolis Star. "As in the recent past, the new season will be led by Philharmonic music director emeritus Jackson Wiley and Orcenith Smith of the DePauw University faculty." (photo by Marilyn E. Culler)
The story by Whitney Smith notes that on October 12 at Pike Performing Arts Center, Smith, professor of music, "will conduct a program... including Aaron Copland's Fanfare for the Common Man and Joan Tower's Fanfare for the Uncommon Woman (No. 4). The November 16 concert, also led by Smith, will be at the University of Indianapolis' Ransburg Auditorium. The program will feature Modest Mussorgsky's Pictures at an Exhibition, John Corigliano's Voyage, Peter Ilyich Tchaikovsky's Reconciliationfor solo violin and orchestra, and [jazz violinist Cathy] Morris."
Meanwhile, the April 25, 2004 season finale will feature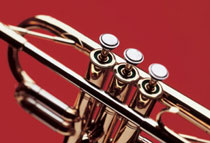 DePauw professor of trumpet Lennie Foy "in excerpts from the Franz Joseph Haydn Trumpet Concerto and some jazz standards, Igor Stravinsky's Firebird ballet suite, and the prelude to Bonhoeffer, a two-act opera about theologian Dietrich Bonhoeffer, who was hanged in a concentration camp after protesting the Nazis."
You can access the complete Star story by clicking here. For more information on the Philharmonic Orchestra of Indianapolis' 63rd season, call (317) 229-2367.
Back